Centreville — Pender ReGift Thrift, an extension of the Pender United Methodist Outreach Center, is trying to increase its presence after a soft opening earlier this year.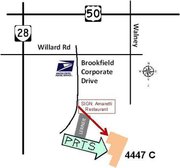 The nonprofit is located at 4447 C Brookfield Corporate Drive, and is run by Maryan Weber, who started another nonprofit called Diana's Books back in 2003, and graduated from a master's level certificate program in nonprofit management at George Mason University in May 2012.
ReGift Thrift's goal is to carry on the tradition of the Pender Flea Market by providing free items to the poor.
Weber said the location got off to a slow start because there had been no preparation for advertising, but that word has spread since she sent an email containing a newsletter to people on the Pender UMC and Diana's Books mailing lists.
The store accepts gently used donations, including all manner of household items, such as furniture and appliances; clothing and accessories for all ages; office supplies, tools and sports equipment; and books, CDs, DVDs and games.
To receive free items, a person must present a chit from the county, a sponsoring Christian organization, or from Pender UMC's Pastor Kenny Newsome. Both financial and material donations are tax deductible.
Distribution is generally done at Pender UMC's Outreach Center at 12401 Alder Woods Drive, but if an item cannot be received there, it may have to be picked up at ReGift Thrift.
ReGift Thrift recently received its sanitation license from the Health Department of the Commonwealth of Virginia, so all bedding, sofas, stuffed toys and other items indicated by the government are sanitized to government standards.
For these standards to be kept, all donations must be received through the loading bay behind the store, identifiable because it is the only loading bay in the center with three doors.
Weber said that Pender is the only United Methodist Church with a warehouse bay, and having run Diana's Books out of her home, she is excited for the greater capacity and extra storage options.
"It's like if you were in Africa and you had the helicopter," she said.
Weber said that the warehouse also helps with the store's commitment to reuse and recycling, which comes after its primary mission of distributing goods to the poor.
Being in an I-5 industrial district, large trucks are able to deliver storage equipment such as gaylords, large boxes that rest on pallets so that they can be transported by forklifts, which Weber uses to store recycling.
ReGift Thrift recycles aluminum, metal, paper and wood. Weber was also a proponent of recycling when she ran Diana's Books out of her home.
"In 2009, Diana's Books recycled 42 tons of books, saving 750 trees from being processed for paper," she said.
Weber said that ReGift Thrift has already saved nine trees since it opened, and that their goal is to save thousands of trees in a single year.
To support its operations, ReGift Thrift also sells many of the same types of items it offers to the poor, and is currently having a summer sale, which features 25 percent off anything remotely summer-related.
There are also weekly specials for 25 percent off children's, women's and men's clothing, Mondays, Tuesdays and Fridays, respectively.
Diana's Books, which offers primarily secular children's books, also runs out of the ReGift Thrift location after being shut down by Fairfax County in 2010 for being too large to operate out of a residential area. Book sales are also part of the business model to support store operations.
Customer Yolanda Roberson visits the store two to three times a week, and said she has been pleased with the discounts and items she has received, including a bench for her yard and a cafe table.
"I'm still on a quest for my Pepsi glass," Roberson said.
Weber said that anyone who wants to help them can do so best by telling a friend.