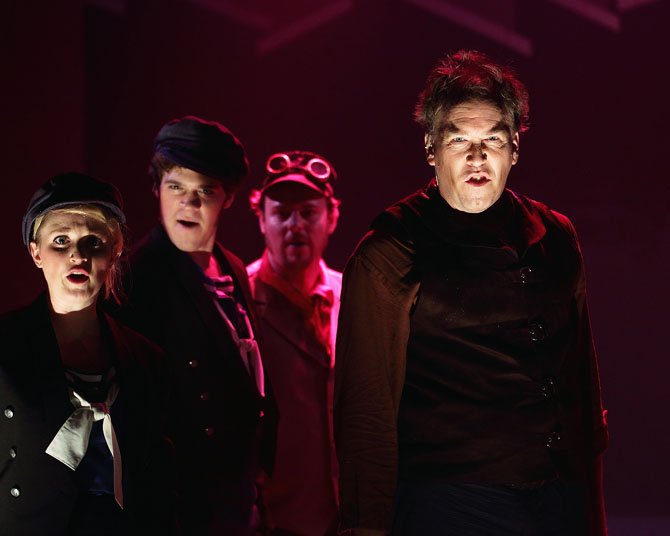 Alexandria — The story hasn't changed, the music is hauntingly familiar and of course the body count remains the same. But with The Little Theatre of Alexandria's production of "Sweeney Todd," you will be seeing the macabre musical of Stephen Sondheim as if it were for the first time.
How can one cheer for a mass murderer? When his sharp acting and cutting vocals are as effortless as Harv Lester's (as Sweeney Todd), it's an easy thing to fall prey to. A villainous and evil public official? Doesn't sound too far-fetched this day and age, but to the extent of Chris Gillespie's oily octane portrayal of Judge Turpin, it's palpable, disturbingly lascivious and thoroughly enjoyable. And the meat pies of Mrs. Lovett are all too delicious when served up with Jennifer Lyons Pagnards' luscious vocals and scorching acting.
From Christopher David Harris' portrayal of the sadistic Beadle Bamford down to the last choral ensemble member, all the LTA performances are truly transcendent. The bench of talent is deep as those who usually play leads — Elliott Bales, Sam Jones and Margie Remmers — populate what may be the most noteworthy ensemble to hit the LTA stage.
Lester, last seen in the title role of LTA's "Will Rogers' Follies," is an especially stirring Sweeney, the coolly amoral barber who seeks revenge with his razor. Eerily lit from below so his eyes glow with fierce passion, Lester's rage boils over with scalding intensity.
With equal command, Pagnard gives a standout performance as Mrs. Lovett, the meat pie shop proprietor whose moral sense is quickly overcome by her love of profit and lust for Sweeney and the fantasy of a marriage she'll never have.
OTHER STANDOUT cast members are Will Hawkins and Roxanne Scher as young lovers, Ben Ribler as the simple waif who helps Mrs. Lovett, and Zachary Frank as a rival barber.
But as brilliant as the acting is, as thoroughly entertaining and engaging as the singing is, some of the principal stars of this production are the backstage crew, set designers, costumes and make-up working behind the scenes by the all-volunteer cast and crew.
Vibrant and startling costumes by Jean Schlichting and Kit Sibley meld with the cutting, dissonant chords of the 12-member orchestra that effortlessly envelops the audience in the plot's absurd madness.
Sondheim specifically sets his grisly musical melodrama in 1849, which creates a Dickensian atmosphere of 19th-century London that is brilliantly duplicated in the set design of the award-winning Dan Remmers and lighting team of Ken and Patti Crowley.
All of this talent is brought together under the brilliant vision of director Andrew JM Regiec, who expertly draws the audience into the always absurd, sometimes comedic psychopathic world that is "Sweeney Todd."
With arterial blood spurting as if from water pipes, "Sweeney Todd" is not a show for the faint of heart. But the characters in LTA's production are vividly realized, complete with dialects smartly layered by coach Carol Strachan.
So let the bodies hit the floor, or rather fall through the floor, and prepare for a savory serving of demonic shearing in a superb production of Sondheim's signature musical thriller.
Photo Gallery
LTA-Sweeney Todd
Click Photo for Flash