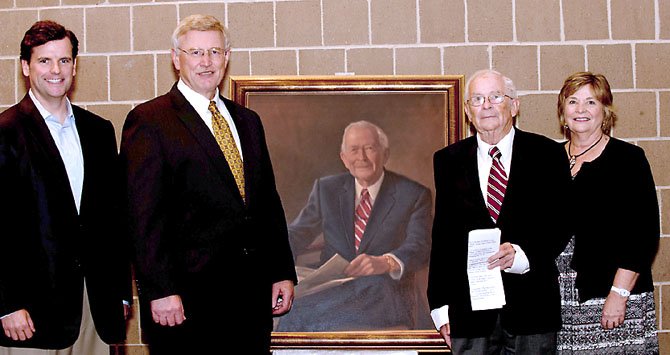 On Monday, July 30, the Friends of the McLean Community Center (MCC) honored long-time community organizer Robert Ames "Bob" Alden with "A Roast and Toast to Bob Alden" in The Alden theatre that was named after him. The celebration culminated in the unveiling of a portrait of Alden by artist Bradley Stevens.
WJLA ABC- 7 Meteorologist and McLean resident Bob Ryan served as master of ceremonies for the program. Alden, who was instrumental in establishing the Center and a "village green" in McLean, worked as an editor for The Washington Post for 45 years. Professional colleagues, friends and family members, including Alden's wife of 54 years, Diane, shared memories and "roasted" Alden while he and his beloved dog, Ginger, were seated on a special throne. The Capitol Steps performed "Lirty Dies" in Alden's honor and the 30" x 24" oil portrait was unveiled by artist Bradley Stevens, MCC Governing Board Vice-Chair Chad Quinn and Friends of MCC President Sandra Bremer.
Following the event, a reception was held in the Center's lobby, where Quinn offered a toast in Alden's honor and where the portrait will be hung as a tribute to Alden.
For more information, visit MCC's Website: www.mcleancenter.org.