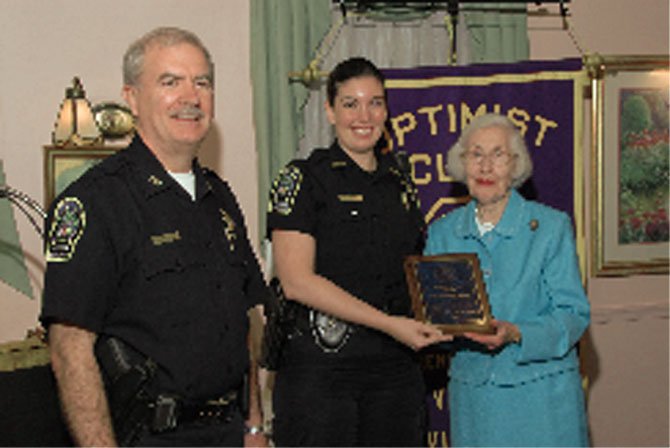 On Aug. 1, the Vienna Optimist Club held their annual banquet to honor the 2012 Charles A. Robinson Respect for Law Enforcement Award recipients at the Marco Polo Restaurant in Vienna. PFC Kristin Ruddy was chosen as the Town of Vienna Police Department's Optimist Club award winner. This award is given annually to one Vienna Police officer and one Fairfax County Police officer after having been nominated by their respective commanders. The award is named after long time Vienna Mayor Charles "Charlie" A. Robinson and is presented by his wife, Maud.
PFC Ruddy has been a member of the Vienna Police Department since 2007 and is currently assigned to the Patrol Section.
In his nomination of PFC Ruddy, Lt. David Pelto wrote: "She (PFC Ruddy) has a 'throwback' mentality to the days gone by, when officers worked with little sleep, and sacrificed personal time to be at work, without complaint, simply because they loved to do this job."
PFC Ruddy is a Rape Aggression and Defense Instructor (R.A.D.) training women in personal safety strategies and techniques. The quality of PFC Ruddy's instruction has
resulted in the development of many strong and confident students who have graduated her classes. She also serves the department by being a Field Training Instructor who takes
the time and energy, outside of her normal duties, to train new officers for their responsibilities after they have graduated from the police academy. Despite her short tenure with the Police Department, PFC Ruddy has a positive approach to her duties which enables her to reason and resolve situations involving people of all ages, personalities and motivations.
PFC Ruddy is a positive role model to new officers and is a credit to the Vienna Police Department.
PFC Ruddy's father is a sergeant with the Connecticut State Police and her sister is a dispatcher with the Vienna Police Department.
More like this story