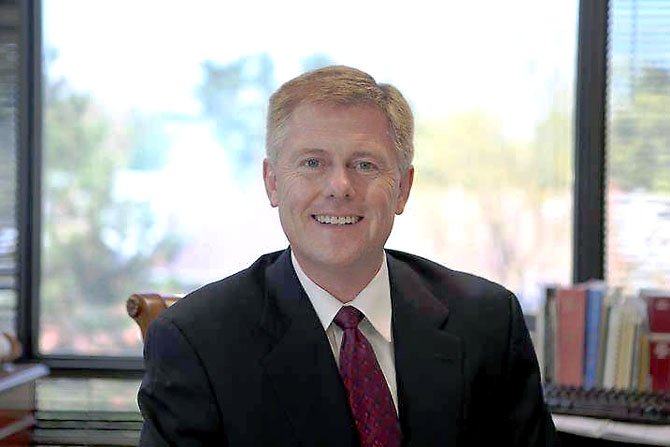 Summer may be considered the "off-season" in education, but at George Mason University, major change is underfoot. GMU recently celebrated Alan Merten's illustrious career as one of the university's most consequential presidents and now welcomes Dr. Angel Cabrera as his successor.
Last month, I had the opportunity to meet and speak with Dr. Cabrera at a welcoming reception sponsored by the Fairfax County Chamber of Commerce. I came away extremely impressed. As you would expect, he is a brilliant educator, an innovative leader and an engaging promoter of his new home. But what struck me most was his interest in listening and in establishing new and furthering existing partnerships.
There were no grandiose pronouncements of how he would "lead in a new direction" or establish "a new era." Instead, he asked that the County and the business community partner with the university so that we can work together to advance the interests of the region. I mentioned to him our efforts in Braddock to lessen the inevitable tension between "town and gown," and he responded by agreeing to meet the community and to continue to work with us to make GMU a better neighbor. He has already learned the great secrets of Fairfax County's success—partnership and collaboration. Under Dr. Cabrera's leadership, I am confident the university will continue to be a great partner in the region.
The reception was also an opportunity for those in attendance to engage in informal discussions about the future of GMU; I continue to digest many of the ideas from those conversations. The university is ideally situated to become a leader in international business. Given our proximity to Washington, D.C., our diverse population and business community and Dr. Cabrera's experience as the recent president of the Thunderbird School of Global Management, why not establish GMU as a center for international business, finance and perhaps foreign relations?
Given the number of former political leaders who continue to reside in Fairfax, shouldn't the university seek to be a leader in studying innovative public policy? And what about a medical school? It's an idea that has been around and, maybe now, one whose time has come. As the County Board, Economic Development Authority and Inova Hospital seek to make the region a leader in personalized medicine, why not establish a medical school to teach this emerging field?
Exciting times are ahead for Dr. Cabrera, GMU and the region. I look forward to helping the County and the university form stronger ties and partner together as innovative, forward-thinking leaders.