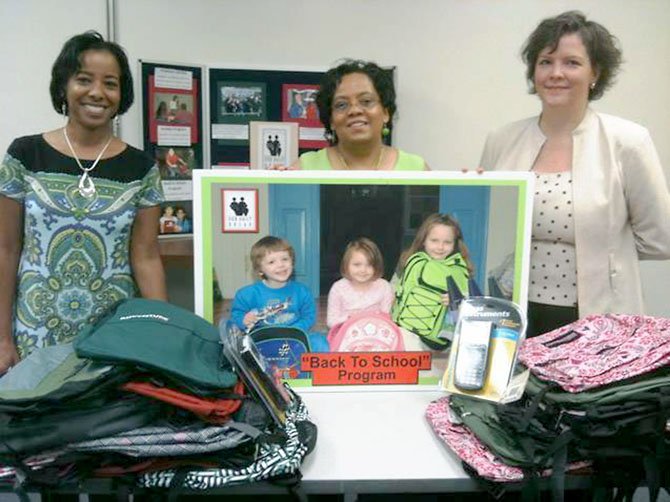 The start of the new school year is less than a month away, and back-to-school sales are cropping up everywhere. Trendy backpacks and must-have supplies can easily cost more than $100, and that's just for elementary school students.
But some Fairfax County children will struggle to be ready when school doors swing open in September.
"For many families in our area who are working hard but struggling to make ends meet, the prospect of finding the funds to purchase new supplies for their children each year can be stressful," said Lisa Whetzel, Our Daily Bread's executive director.
For the second year, ODB is collaborating with Kids R First, Fairfax County, Fairfax County Public Schools and other area non-profit agencies to purchase high quality school supplies at a deeply discounted rate through a partnership with the Collect for Kids program.
The program allows ODB to provide all the supplies a student needs for approximately $10 per student, where it can traditionally cost $40 or more per child.
While ODB's goal is to provide supplies for 700 qualified needy children who attend schools in the Fairfax High School and J.E.B. Stuart High School pyramids, Whetzel said they still need to collect $3,000 and 200 backpacks by Aug. 12.
To wrap-up the campaign, ODB is hosting a Back to School Benefit on Sunday, Aug. 12 at Casa Italia in Fairfax City from 1-5 p.m. A customer car show will be hosted by Bubba's East Coast Rods & Customs.
"We hope the community will respond generously to ensure that children whose families are in crisis are able to return to school this fall with the tools they need to succeed in the new school year," Whetzel said.
In 2011, ODB assisted 438 children in central Fairfax. Whetzel said the nonprofit wants to continue to expand the program in future years to ensure that as many needy children as possible receive assistance.
In addition to financial contributions to purchase the supplies, ODB is seeking donations of new backpacks and scientific calculators (TI-30Xa, TI-83 or TI-84). ODB will accept donations through Aug. 12 at its offices at 4080 Chain Bridge Road, 2nd Floor, or at the following local businesses that are partnering with ODB:
*Apple Federal Credit Union: Fairfax (9701 Main Street) and Vienna (419A Maple Avenue East)
Bertucci's Restaurants (Alexandria, Herndon, Springfield, and Tysons Corner locations only.)

Valvoline Instant Oil Change (9885 Fairfax Blvd.)

Virginia Heritage Bank (Fairfax Branch Only – 11166 Fairfax Blvd)
For more information, contact Becca Brummett or Jennifer Rose at 703-273-8829 or holiday@ODBFairfax.org, or visit www.ODBFairfax.org.