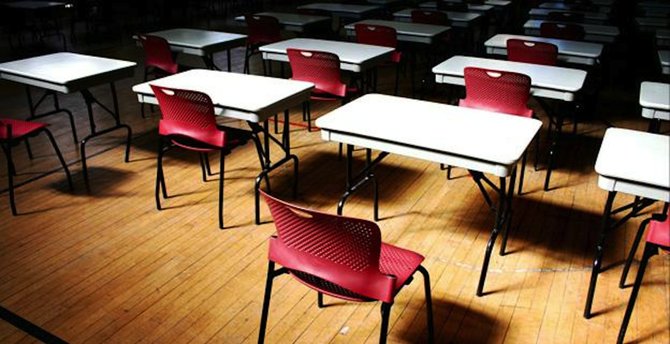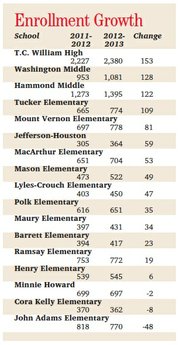 With the first day of school fast approaching for most of the city's public schools, central administration officials are scrambling to respond to dramatic enrollment increases. It's a trend that began four years ago, when declining enrollment ended and students started coming back to Alexandria City Public Schools. The most recent enrollment projections show T.C. Williams High School will have 153 more students than last year, making it the largest high school in Virginia.
"There's no room at the inn," said Tammy Ignacio, chief administrative officer. "At our leadership meetings, we're talking about how to get kids through the lunch line without breaking the fire code."
Each new round of enrollment projections seems to add even more students to the mix. Superintendent Morton Sherman says the current projections show about 300 more students than were expected just a few months ago. More than 100 families have been turned away from Samuel Tucker Elementary School, the city's newest elementary school that's already at capacity.
"If you look at the Census data, the percentage of young kids under 5 has increased over the last 10 years and that's really the heart of our growth," said City Councilman Rob Krupicka, who is also a member of the Virginia State Board of Education. "So every year we're having record Kindergarten classes and the schools just keep getting bigger."
RECENT YEARS have seen a dramatic increase in enrollment numbers, although the reasons for the increase remain somewhat of a mystery. School officials say the economy could play a role, with parents choosing to send their children to public schools rather than private schools. Another reason could be a greater willingness of parents to live in an urban environment rather than a suburban Fairfax County home with a large yard. Whatever the reason for the growth, the numbers continue to spike.
"We're likely to see another spike when the latest projections come out in the middle of August," said Ignacio. "We may well end up adding another Kindergarten class at Mount Vernon."
Enrollment figures show that the numbers are not increasing evenly, indicating some racial and geographic movement. Schools on the west side, for example, are growing at a faster rate than schools on the east side. And while George Washington Middle School was once predominately African American, the latest numbers show that it has become predominantly white. Meanwhile the percentage of students who live in poverty continues to increase, with the percentage who quality for free and reduced price lunch spiking from 51 to 58 percent in the last year alone.
"It's a challenging trend," said Sherman. "It certainly gives us greater needs than a lot of other school divisions that don't have such a high percentage of kids who qualify for free-and-reduced price lunch."
To handle the crunch, school officials have added modular classrooms that are constructed offsite. Instead of the old fashioned trailers, also known as portable classrooms, modular classrooms are built offsite and assembled at the location as a permanent structure. In the last three years, school officials have added about 30 modular classrooms. One elementary school has added middle school classes, and two more are planning to follow suit in the next few years. Ultimately, Sherman says, the school system needs five new schools — two more than are currently funded by the City Council
"This is not pie in the sky," said Sherman. "These numbers are projected to continue to grow."