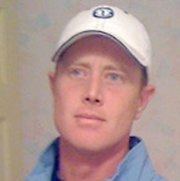 Potomac — The U.S. Golf Association Men's Amateur Golf Tournament is the most prestigious golf tournament for amateurs in the United States — and Potomac's Rusty Pies qualified for the second year in a row. The tournament will be held Aug. 13 - 19 at Cherry Hills Country Club in Cherry Hills Village, Colo. Pies made the cut with two-day scores of 69 and 68 at the sectional qualifier played at the University of Maryland Golf Course. He was one of only four golfers who qualified for the honor. If he wins, he will join the ranks of Tiger Woods, Justin Leonard, Phil Mickelson and Hunter Mahan — all U.S. Amateur Champs before they joined the PGA tour.
Pies began playing golf with his dad when he was 12 and became serious about the game before he graduated from Churchill High School in 1988. He moved to Florida in 1990 to work at Bob Toski's Golf Center in Coconut Creek and turned pro at age 22. He spent 10 years "chasing the tour" as he puts it and teaching golf before he returned to Maryland and regained his amateur status. Pies is the current Club Champion at Bethesda Country Club and plays many local amateur tournaments.
This tournament pits the best amateur golfers in the U.S. against one another. "The first two days are 18 hole stroke play alternating at Cherry Hills Country Club and Common Ground Golf Club," Pies said. "Players have to score well because the field of 236 players is narrowed to 64 after the first two days. Then match play begins, with the first round of 18 holes played on Wednesday and the second and third rounds (18 holes each) on Thursday. Friday and Saturday are 18 holes each day for the quarter-finals and semis and then Sunday is the 36 hole finals match.
"These are the best college players in the country. They are fearless and amazing players. I am hoping to hold my own." Another local player, Denny McCarthy of Rockville also qualified. He currently plays for the University of Virginia.
If Pies should win, he would receive exemptions for the U.S. Open, the British Open, and for the next 10 U.S. Amateur tournaments. He would most likely receive an invitation to play in the Masters too. "It would be a dream come true to be the champion," said Pies.
Bethesda Country Club Golf Professional Kelly Smith said, "Rusty is a great local amateur. For the second year in a row, he has qualified to play with the best amateurs in the United States. We hope that he makes it to match play but we are still proud of his accomplishment."
According to the USGA website www.usga.org, this is the 112th U.S. Amateur Championship. Bobby Jones won this championship five times between 1924 and 1930. In 1994, Tiger Woods was the youngest player to win the U.S. Amateur Tournament at age 18. He won it three consecutive years but his status as the youngest player to win it was broken when Danny Lee and Byeong-Hun both won it at age 17. Players this year range from ages 14 to 56. Four sons of professional golfers will be competing this year - Eric Hallberg (Gary Hallberg), Michael McGowan (Pat McGowan), Robert Mize (Larry Mize) and Gary Nicklaus (Jack Nicklaus).
Pies hopes to play well in this year's tournament. "Last year, I missed the cut by 4 strokes. I'm hoping to make it to the match-play rounds."