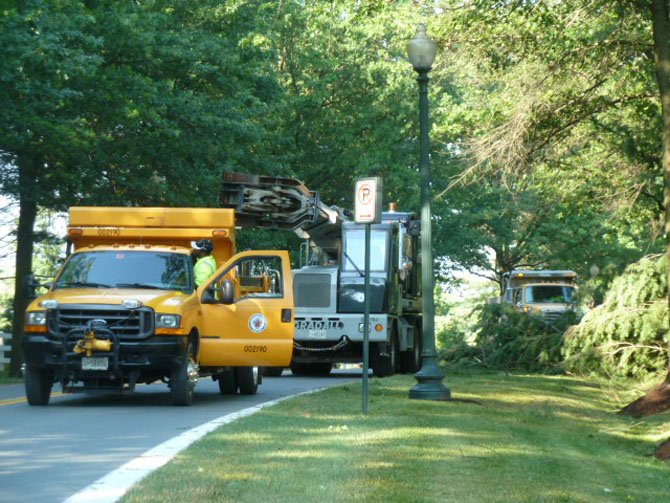 Potomac — The Maryland Public Service Commission held the first of eight public hearings across the state this month to ask residents about experiences during the June 29 Derecho Storm.
More than 200 citizens attended the public hearing at Montgomery County Council headquarters in Rockville Tuesday, Aug. 7. The public comments were to address all three power utilities that serve Montgomery County, but focused on Pepco.
"We cannot plan our lives," said Jeff Mandell, a Potomac father of two children under three-years-old who lived without power for 158 hours through some days that approached 100 degrees. "It wasn't a sustainable place to live."
On Saturday, June 30, the morning after the storm, Pepco's website reported that 18,229 customers in Potomac 20854 were without power. The U.S. Census estimates that there are 16,000 households in Potomac, plus businesses, so virtually all of Potomac was without power.
In Montgomery County overall, 232,400 Pepco customers out of a total of 309,000 were without power, and 500 of the county's 800 traffic signals were dark. It took more than a week to restore all of the Potomac outages.
Many directed comments at Pepco's aggressive and expensive tree pruning plans.
"Aggressive pruning does little to increase reliability," said Arlene Bruhn of Conservation Montgomery.
"Miles and miles of trees were pruned, the numbers were impressive," she said. "The Derecho tested the hypothesis, and it didn't work. Pepco can't prune its way to power."
One Potomac resident spoke in limerick.
"I told you before, and I hate to bother you; next time we're going to have an outbreak of cholera," he said. "Potomac, Montgomery County is a nice place to be … unless you're like me where you have no electricity."
Bring in outside experts to review Pepco's performance, said Bruce Bernstein.
Abbe Milstein and others directed comments to the commission, which many said had the power and ability to do more to hold Pepco accountable.
"You have enabled Pepco to wreak havoc in our lives," said Milstein. "Let us hope you have finally heard us."
Stan Croydon, who has multiple sclerosis, suggested Pepco could have paid for backup generators or equipment for thousands of residents with disabilities with the money spent on advertising.
"The arrogance, the self aggrandizing is a very expensive and a very insulting rhetoric," said Catherine Pickar, Town of Somerset councilmember. "Tell them to fix it. Fix it soon. But not on the backs of our rate payers."
"Thank you for coming in here and taking our outrage," said Ed Levine, of Bethesda. "That's the nicest thing I'm going to be saying today. In my neighborhood, when the clouds move in front of the sun, we lose power."
Written public comments should be sent by Sept. 10 to David J. Collins, Executive Secretary, Maryland Public Service Commission, William Donald Schaefer Tower, 6 St. Paul Street, 16th Floor, Baltimore, MD 21202.
Contact Regina L. Davis of the Public Service Commission at rdavis@psc.state.md.us or at 410-767-8054.