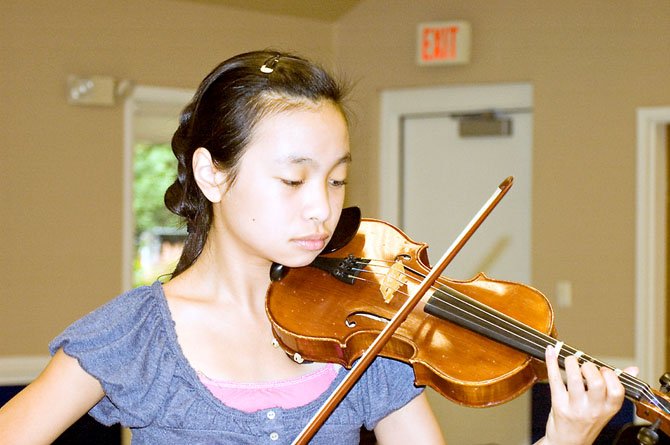 McLean — At the Summer Strings Camp, young musicians come together to share a love of music and gain experience playing in an orchestra. Held at St. Thomas Episcopal Church in McLean, the camp runs for seven days and culminates in a concert to showcase the students' best material.
The camp is directed by Ruth Donahue, who says that she tries to teach the children "a love of music and to have fun while playing."
In accordance with this philosophy, Donahue implements theme days like Messy Monday and Freaky Friday into the camp. She also tries to select pieces that she thinks her students will connect with—for instance, the children were recently thrilled to learn the Olympic theme song.
"She cares about how we feel playing, and really tries to focus on our individual potential and progression," said violinist Lauren Fahlberg, a student at Spring Hill Elementary School, about Donahue.
Summer Strings has been running since 1989, and is sponsored by Music Masters, a local music store. Although the program is only a week long, Donahue says, "it is the perfect amount of time to pull a concert together and keep the students interested."
Violinist and Thoreau Middle School student Elizabeth Wu says that her favorite aspect of Summer Strings is the opportunity to play with a group because, when practicing at home, the students play individually. Along with Fahlberg, Patrick Oh and Laurenn Lee, Wu prepared Mozart's "Musik der Tisch" for the final concert. "We learned to listen to each other," she said.
Many students plan to continue playing in their school orchestras. However, Fahlberg adds, "We all hope that FCPS doesn't shut down the music department. That's a really depressing thought."