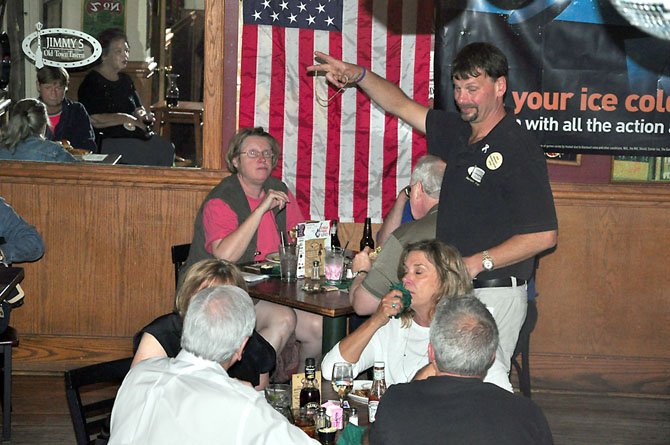 Herndon — Herndon's signature restaurant is, according to many locals, Jimmy's Old Town Tavern. Owner Jimmy Cirrito, a native of upstate New York, signed his lease on Veterans Day, 1996, and has been a fixture of the community ever since.
"I like Jimmy's because it really is a tavern out of classic Americana, and that's best demonstrated by the fact that you can walk in almost any time and see Jimmy himself," said Edward Hall of Herndon. "You go to a place like Carrabba's or Bertucci's, and the namesake isn't there, or even real for all we know, but Jimmy's always there with a big goofy smile on his face greeting his customers."
Jimmy's has been voted King of Wings by Northern Virginia Magazine last year and best wings by WTOP this year. Cirrito put in his campaigning work for the King of Wings contest, promising voters that he would dress up like a chicken and dance in downtown Herndon, which he did in March 2011.
"I've got to hand it to him, he said he would do it, and he swallowed his pride, whatever was there already, and went out and did it," said Will Topham of Herndon, who lives down the street from Jimmy's. "That was right when I moved in, and I remember walking downtown and seeing a guy in a bright yellow suit walking out and dancing like crazy."
The more than 100 restaurants in Herndon serve cuisine from almost 30 countries, and the diverse group of restaurants are one of Herndon's distinguishing features.
"I love Indian food, and some of my favorite places are all within the town borders, in fact they're what got me into that cuisine," said Doug Cherfe of Herndon. "I started going to Harvest of India when I first moved here, because their buffet allowed me a chance to try everything. Now we've got Angeethi, which is another wonderful place, which has a buffet as well. Those are the best because you can play around, find what you like, then come back and order full portions of the tastiest dishes."
Other restaurants are famous for their ethnic cuisine, though maybe not the kind they advertise.
"It sounds strange, O'Sullivan's being a mostly Irish place, but their chicken curry is to die for," said Julia Carstens of Reston. "I get a lot of odd looks when everyone around me is ordering the bangers and mash or the Guinness burger and I get the curry, but that tune changes when everyone tries it."