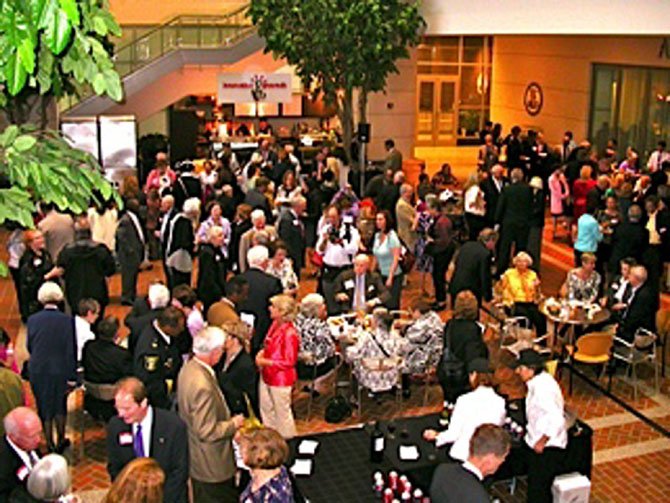 Alexandria — Since Alexandria was founded in 1749 it has harbored Living Legends the likes of George Washington and his compatriots, Yankee and Confederate soliders of the Civil War, heroes of World War I and II, and the "Now Generation." Until five years ago few of these legends were recognized, but then came Nina Tisara and her vision to start an Alexandria Living Legends program.
Each year since 12 prominent Alexandria residents are selected by peers to be recognized for their devotion, tenacity, commitment and never ending support of the Alexandria community. They have been visible and invisible in their undertaking to make Alexandria a better place to live. Few have sought recognition but Nina's program has found them photographed them, written biographies about them and their deeds to show the masses what truly unique individuals we have living among us.
The program has been incorporated into a non-profit organization or foundation now, and seeks its support from community businesses and residents. It holds an annual "unveiling" reception of each new year's awardees, attended by city officials and the community leaders as well as the public who gather to find out the "who's who" of Alexandria Living Legends.
For more information on the Alexandria Living Legends program or to nominate an individual to be considered as a Living Legend, e-mail alexandrialegends@nintisara.com and ask to be contacted.
— Bill Kehoe


Alexandria is a great place to live because so many people work hard to make it special. Living Legends was founded by Nina Tisara who believed we should say thank you to those people who make a difference while they could know how much their work was appreciated.
— Pam and Kerry St. Clair


In recognitions that the City of Alexandria is a special city that is grounded in a community relying on the civic participation of its residents, the Living Legends of Alexandria organization was established to annually identify Alexandrians who have made outstanding contributions to the City. Founded by Nina Tisara,the organization's director, 703-625-2330, The Living Legends of Alexandria is supported by businesses, organizations, and individuals, committed to identify community leaders who are recognized by their contributions to the city and enrolled as a member of The Living Legends of Alexandria at an annual reception. The pictures of these community leaders as well as biographical information, and a video are then placed in the library and in other venues to provide a living humanizing history of this city. The Living Legends Program and this exhibit is designed to mentor, by example, residents interested in volunteering to enhance the quality of life in Alexandria by their volunteer activities.

— Chet Avery


We know that there are scores of folks who have given a significant part of their lives — their hearts and souls — to making Alexandria a better place in which to live. These people need to be recognized. And all it takes is submission of a 1-page description outlining the activities where the person has excelled. Everyone who sends in a nomination or is nominated receives an invitation to a big, gala reception held in a stunning venue. You don't have to be a Pulitzer Prize winner to do send in a nomination. Anyone who wants to can participate in this program.
Living Legends of Alexandria (LLA), is the vehicle dedicated for nominating those who have contributed significantly to Alexandria. Criteria for nominating someone to receive this great honor are the following:
(1) Individuals must have contributed at least one tangible improvement to the quality of the city's life that would likely be missing without his or her vision and energy ... or ...
(2) Individuals must have demonstrated exemplary service to the city for 10 years or more, especially service on boards, commissions, committees or service organizations that improve the quality of life in Alexandria.
Please consider participating in this terrific way to recognize those who have given such great efforts to our town. For further information, contact Nina Tisara at alexandrialivinglegends@ninatisara.com or go to www.AlexandriaLegends.com for submission forms and pictures and stories of previous years' nominees.
— Max Rotermund and Susan D. Dawson