Centreville — New and exciting projects are on the horizon in the Sully District. Below are some of them:
COMMERCIAL DEVELOPMENT
Inova Fair Oaks Hospital
Currently, many local residents needing radiation or other oncology treatments go to Inova Fairfax Hospital to receive them. But a new, fourth, medical office building on the Inova Fair Oaks Hospital campus would bring these services closer to home.
Inova Fair Oaks plans to construct that building, plus more parking and a new entrance from Rugby Road. Hospital representatives hope to have the medical office building completed and occupied by the end of 2013.
The office building would be four floors and 90,000 square feet, with a 25,000-square-foot cellar. It would house a new oncology center made possible by the relocation of a portion of the radiation/oncology services from Inova Fairfax to Inova Fair Oaks.
The plan also entails some 450 new parking spaces — 150 in a new, surface-parking area on the northwestern part of the campus, plus about 300 in an existing garage with extra space. A new, five-level parking garage is slated for construction in a future phase.
Also on the horizon is an addition to house more patients, Inova Fair Oaks already has approval for a 160,000-square-foot, hospital-bed tower expansion north of the existing hospital. But it wants to increase it by 39,175 square feet for a total of 199,175 square feet within the same footprint of what's already approved.
Fairfax County Public Safety Complex: Projects still to be completed at the campus along West Ox Road, near Route 29 in Fairfax, include:
A 20,000-square-foot expansion of the existing Fire and Rescue Academy facility. On the bottom floor, men's and women's locker rooms will be enlarged and improved and more lockers will be added. More classrooms will be built on the top floor. Construction should start this fall.

A full renovation of the existing, 15,600-square-foot Animal Shelter and a 13,400-square-foot expansion to increase its total size to 29,000 square feet.
Office building: The Aerospace Corporation (TAC) is constructing a seven-story office building with a garage at 14725 Lee Road in Chantilly.
Bank: BB&T plans to build a 3,221-square-foot bank, with two drive-through windows and a drive-up ATM, at one end of the Sully Station Shopping Center on Stone Road in Centreville. The layout will be similar to the existing BB&T Bank in the Franklin Farm Shopping Center.
Restaurant: Coyote Grille is slated to open a new location in Centreville in September. It will be in Centrewood Plaza, where the Shade Tree Restaurant used to be. Billing itself as "a culinary adventure of southwest cuisine," its menu will include items such as fajitas, enchiladas, burritos and chimichangas, along with a wide variety of soups, salads, beverages and desserts.
RESIDENTIAL/OFFICE PROJECT
Ridgewood: Developer Kettler has plans for two parcels of land between Ridge Top and Waples Mill roads, along the northern and southern sides of Government Center Parkway in Fairfax Center. Some 39 townhouses will be built on the southern parcel, and 30,000-35,000 square feet of community-oriented offices will go on the northern parcel. The rear of the office site will include a community park at the intersection of Ridge Top Road and Government Center Parkway.
The townhouses will each have two-car garages, plus parking on their driveways. They'll be three, finished levels with either three or four bedrooms. The office building will contain about 20,000 square feet of community-serving retail as amenities for nearby residents. The offices will be for doctors, dentists and other professionals.
TRANSPORTATION
Stringfellow Road: The part of Stringfellow between I-66 and Route 29 was four-laned in the 1990s by Fairfax County's Department of Transportation. But the section from I-66 to Route 50 will also go from two to four lanes, providing a quicker, wider conduit between Route 50 in Chantilly and Route 29 in Clifton/Centreville.
Stringfellow Road currently carries some 23,000 vehicles a day, and that figure is only expected to increase. So the goal is to reduce traffic congestion there, especially during evening and morning peaks.
Planned are four travel lanes — two, 12 feet wide, and two, 14 feet wide; a 10-foot multipurpose trail, a 6-foot sidewalk and a raised, 16-foot, grass median. And bicyclists will not only share the trail with pedestrians, but also pedal side-by-side with cars, trucks and buses on each outer, 14-foot lane.
Utility relocation has already been done; construction is scheduled to begin this fall.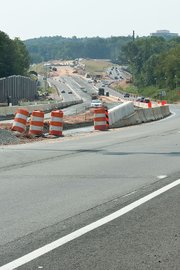 Fair Lakes Interchange Project: The Fairfax County Parkway will be widened within the existing median to six lanes — three in each direction — between I-66 and Route 50. But an interchange is also needed to handle the congestion and rush-hour backups. And now, the funding has finally come through to build this project that's been on the county's to-do list for years. Construction is anticipated to take about 2 1/2 years.
The signalized intersections at Fair Lakes Parkway and Monument Drive will be eliminated. And the additional lanes on the Fairfax County Parkway will improve traffic flow from south of I-66 to north of Rugby Road. A split-diamond, grade-separated interchange will have a free-flowing Fairfax County Parkway bridging over Fair Lakes Parkway and Monument Drive.
Fair Lakes Parkway will be widened to accommodate the necessary left-turn lanes for the interchange. Beginning at Fair Lakes Parkway, a multi-purpose trail is anticipated along the east side of Fairfax County Parkway with a connection to the existing trail at Rocky Run Stream Valley Park.
Project completion is slated for 2013.
Route 50 Widening West of Chantilly: Construction began last fall to widen Route 50 from four to six lanes between Poland Road in Loudoun County and Route 28 in Chantilly. The 3.7-mile design-build project will take three years to complete.
There will be no lane closures on holidays or during rush hours, but drivers can expect lane closures overnight and mid-day. During all other times, all lanes and turn lanes will remain open.
Currently, Route 50 narrows from six lanes to four just west of Route 28 in Chantilly. But increased development and congestion in Loudoun County creates backups during much of the day on the existing four-lane segment, especially during morning and evening rush hours.
When completed, traffic-clogged Route 50 will have three lanes in each direction, improved turn lanes and traffic signals, curb and gutter on the outside lanes, crosswalks and pedestrian signals, widened and upgraded bridges, and pathways on both sides of the road. The road will also be more level and provide wider buffers between travel lanes and roadside hazards.
The $100 million improvement project includes $8.3 million for preliminary engineering; $24.5 million, right-of-way acquisition; $9.9 million, utility relocation; and $57.2 million, construction. Shirley Contracting is the contractor for this project. It should be done in early 2014 and should then be able to handle increased traffic demands for many years to come.
Route 29 Bridge Replacement: VDOT plans to replace the Route 29 bridge over the Little Rocky Run stream in Centreville. Besides improving the bridge, itself, the project will also result in a new sidewalk and shared-use path. The new bridge will go from .2 miles east of Pickwick Road to Union Mill Road and will be just under a half-mile long.
The existing bridge is 22 feet long, was built in 1932 and is structurally deficient. It's not unsafe, but requires an increasing amount of monitoring and maintenance. It'll be brought up to state standards by lengthening it to 150 feet and elevating it some 3 feet higher than it is now.
The bridge will be built six lanes wide to accommodate future traffic, but will initially be striped for four lanes. A 16-foot-wide, raised, grass, median strip will separate north- and southbound lanes. Each outer lane will be 15-feet wide, with the outermost three feet earmarked for bicycle riders.
On the bridge's south side, a path will connect to existing trails. The north side will have a 5-foot-wide sidewalk connecting to the Faircrest community and existing sidewalks. Estimated cost is $14.5 million and the project is fully funded. Anticipated completion is fall 2015.
Walney Road Bridge: Built in 1980, the Walney Road Bridge over Flatlick Branch in Chantilly carries more than 21,000 vehicles a day. Trouble is, it often floods, is disintegrating structurally and surpassed its life expectancy 15 years ago. So VDOT plans to replace it with a wider, sturdier and safer bridge.
It's about 500 feet from the Walney Road/Westfields Boulevard intersection. Walney will be four-laned to Willard Road. And the downhill curve on north-south Walney will be smoothed out significantly to make it descend gradually.
The road will also be raised 10 feet higher in the area where it currently dips down as drivers leave the bridge, for better sight distance. Anticipated cost is approximately $7 million. Construction is expected to begin in summer 2014 and end in summer 2015.