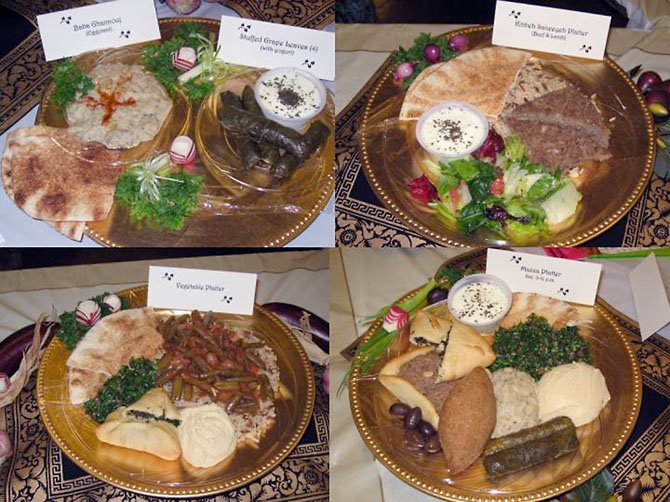 If you love freshly-roasted aromatic meats, rich syrupy pastries, exotic dance and music and very congenial people, you'll love the ethnic food festival in McLean that brightens Labor Day weekend.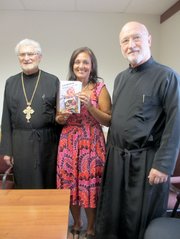 For the 12th consecutive year, the parishioners of Holy Transfiguration Melkite Greek-Catholic Church on Lewinsville Road are throwing its annual Middle Eastern Food Festival on Saturday, Sept. 1, and Sunday, Sept. 2.
The Middle Eastern Food Festival was created to introduce other people to the Melkite Greek-Catholic culture and to share a meal with the community.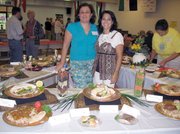 "You never know somebody unless you share a meal with them," said Rt. Rev. Joseph "Father Joe" Francavilla, pastor of Holy Transfiguration Church. "We're sharing something on a very fundamental level. Breaking bread, sharing food, brings people together." He also noted that the festival offers the "best food going anywhere."
THE FOOD sold at Holy Transfiguration's food festival is not simply Arabic cooking, it's cooking and baking that has been handed down from mother to daughter for generations. Everyone in the church helps out for this festival, which is as much an introduction to Arabic culture as it is a food-fest.
"The most important thing about this festival is exposure of our church to the people of the D.C. area," said Rt. Rev. "Father Charles" Aboody, festival chairman. The church itself looks like no other in the area with its gilded icons. "We feel we have a unique church in the area, culturally and in its beauty," Father Charles said. "We're also known to have the best food in the whole D.C. area."
Admission to the festival is free. There is a charge for the food and children's activities. Plates, featuring stuffed grape leaves, kabobs, falafel, spinach and meat pies, are priced individually and served throughout the day, as are the pastries and sweets from the 50-plus-foot long dessert table. Pastries start at $1 per piece.
The highlighted meal of the food festival is the Saturday evening spit-roasted-lamb dinner, priced at $12 per person. While fragrant seasoned lamb and chicken fill the air with an aroma that only grilled meats have, most likely it's the dessert table that all age groups gravitate toward. Women of the church have been baking for weeks for this event.
"The lamb dinner is something you don't want to miss," said Nikki Haddad, food coordinator for the festival. "And we serve a great cup of real Arabic coffee."
The lamb dinner "hafli," beginning at 6 p.m., features live music and dancing, as well.
The dessert buffet showcases an assortment of honey-rich baklava made with different nuts, date-filled mamoul cookies, and pastries dipped in rosewater syrup, among a myriad of other popular Arabic sweets.
THE FESTIVAL introduced pony rides for children in 2011 and the rides were such a big hit with children that they will run again this year. The kids' all-day pass is $10. That includes unlimited activities—face painting, moon bounce, games, and one pony ride. Pony rides can be bought separately for $5 per ride.
One of the festival's non-eating highlights is the series of food demonstrations throughout the weekend by home "chefs." The focus, said Haddad, is on healthy Middle Eastern eating. At the festival, the church is selling its recipe book, compiled by Haddad, a personal chef and dietary consultant.
The Middle Eastern Food Festival kicks off at 11 a.m. on Saturday, Sept. 1, running to 11 p.m. that day, and reopens on Sunday at noon, running until 6 p.m.
To volunteer as an apprentice cook, learning Arabic recipes from the people who prepare Arabic meals at home, call Father Joe at 703-734-9566 and he'll pass your contact details along to the festival's food coordinators.
"This food festival is definitely a gift we have to share with our community," Father Joe said. "The whole person is touched by God's grace through food, music and our icons."
For details on the Holy Transfiguration Melkite Greek-Catholic Church Middle Eastern Food Festival, go to www.middleeasternfoodfestival.com. The Church is located at 8501 Lewinsville Road, near the intersection of Spring Hill Road.