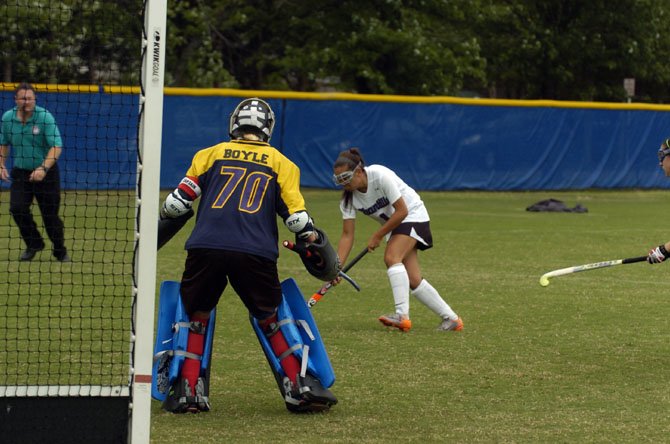 While injuries have slowed the T.C. Williams field hockey team at the offensive end, the Titans' defense, led by senior goalkeeper Megan Boyle, will be the strength of the team early in the 2012 season.
Boyle is a fourth-year starter who garnered all-district and all-region accolades in 2011 and has the trust of her head coach.
"I've got a good, stable defense and I've got Megan Boyle as my keeper," William Heresniak said. "She's my rock of gold. She's ice under pressure, and I think I always trust her in the back. … She's naturally athletic, naturally quick, commanding on the field now compared to when she just started as a freshman. She reads a lot of the fast breaks better; it's her circle. She protects her circle like a cat ready to go."
TC participated in the "Under the Lights" tournament Aug. 24-25 at Lee High School in Springfield. The Titans won their opening game, 2-0, over Hayfield on Friday. After, Boyle said the Titans need to have the right mental approach to be successful.
"I think we're a strong team," Boyle said. "I think that, physically, we could compete with any team in the region. I just think that, emotionally, we have to get the mindset … we are the Titans, we can do this."
While the TC defense shut out Hayfield, seniors Hannah Drexler and Emma Bracken provided offense for the Titans. Drexler gave TC a 1-0 lead in the first half and Bracken, a fourth-year varsity athlete, put the finishing touches on the win with a goal in the second half.
"This year, I'm trying to shoot a lot more because I'm kind of tentative on that," Bracken said. "I'm more of a pass-first player. I just had a really solid pass and I saw an open lane, and I kind of hit it off speed, which might have thrown the goalie off. I was happy it went in."
Heresniak said Drexler and senior Charlotte Sackett have shown versatility, moving around to different positions to help with injuries.
TC will travel to face South County on Sept. 6.