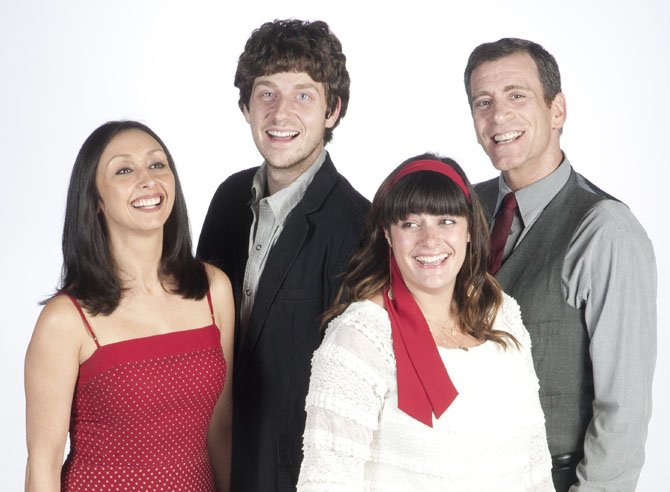 Alexandria — Jacques Brel is Alive and Well and Living is Paris is a classic. It landed in New York in 1968 with an English translation and played at the Village Gate for four years. Since then it has played all over the world and is a beloved compilation of music by Brel, an artist growing up in Brussels, then living and performing in Paris. His music was translated by Eric Blau and Mort Shuman and Jacques Brel is Alive and Well and Living is Paris introduced this stunning, passionate music to American audiences. The rest, as they say, is history.
I was introduced to Brel's music in the '80s at d.c. space, a funky little performance venue on the corner of 7th and E St. NW (now a Starbucks). I still own the original vinyl cast album. It has been a favorite of mine for decades. And now MetroStage is producing it, opening our season with an amazing cast and band to celebrate this brilliant music which covers life and death, love and loss and all of the human experiences in between. It is just as relevant today as it was when it was first introduced to English-speaking audiences of the late '60s.
In 2006 a new production of Brel opened at the Zipper Theatre in New York. One of the acclaimed actors in that production was our very own Natascia Diaz. We are delighted that she will be headlining this great cast, also comprised of Bobby Smith, Sam Ludwig and Bayla Whitten. Natascia is well known to our audiences because she was in
MetroStage Season
Producing Artistic Director Carolyn Griffin announces that the 2012-13 season will open with the musical Jacques Brel is Alive and Well and Living in Paris, featuring Natascia Diaz from the 2006 production of the off-Broadway revival at the Zipper Theatre, and a remarkable cast of Bobby Smith, Bayla Whitten and Sam Ludwig. Aug. 30-Oct. 21, 2012.
The revival of A Broadway Christmas Carol will follow just in time for the holidays, featuring Michael Sharp as Scrooge and Tracey Stephens and Russell Sunday playing all of the other characters in this parody of A Christmas Carol using Broadway showtunes. Nov. 15-Dec. 23, 2012.
The world premiere of Ladies Swing the Blues, book and lyrics by Thomas W. Jones II and original music by William Knowles, will feature Roz White, Lori Williams, Yvette Spears, Sandy Bainum, and Anthony Manough. This is a new work that includes many MetroStage artists. A staged reading of it will be part of Page to Stage at the Kennedy Center on Saturday, Sept. 1 at 4 p.m. at the Terrace Theatre. Jan. 24-March 17, 2013.
The area premiere of Michael Hollinger's Ghost-Writer will conclude the season. It will feature Susan Lynskey (last seen at MetroStage in a featured role in Girl in a Goldfish Bowl). John Vreeke returns to direct. April18-May 26, 2013.
MetroStage is located at 1201 N. Royal St. in Alexandria in North Old Town. Tickets are $48-55 and may be ordered by calling 1-800-494-8497 or online at boxofficetickets.com. For group sales and information call the theatre at 703-548-9044. Visit www.metrostage.co...
our world premiere of ROOMS a rock romance, where she won the Helen Hayes Award for Outstanding Lead Actress in a Musical. She has also been at MetroStage in Glimpses of the Moon and, most recently, Savage in Limbo. Nationally she has been seen in Cabaret (Velma) and The Capeman (Esmeralda) and other Broadway and national tours as well. Bobby Smith, you will remember from our hilarious parody Musical of Musical (The Musical!), Sam Ludwig was seen opposite Natascia in Glimpses of the Moon, and Bayla is a beautiful young ingénue we will be introducing to MetroStage audiences for the first time.
Jacques Brel is Alive and Well and Living in Paris will run at MetroStage through Oct. 21. With this great cast, great band and great music this production of this classic show is a must-see this fall.