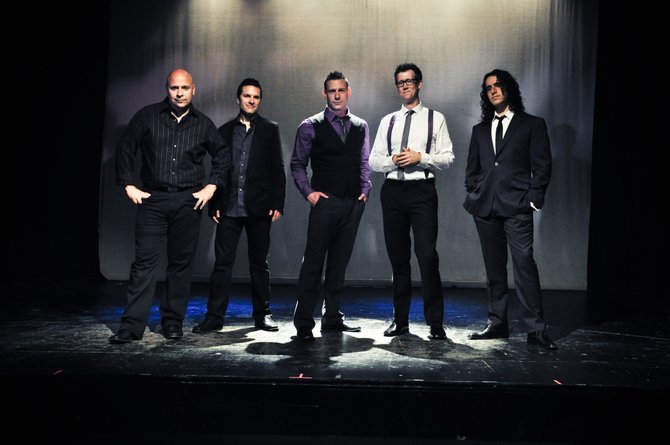 An evening of lively, fun a cappella style singing will be in store for audiences at the Alden Theatre. Without musical instrument accompaniment, the classic harmony, five-member Ball in the House will be performing from a wide-ranging play list. It will be a vocal feast.
This is the first appearance of Ball in the House at the Alden, said Kathleen Herr, director of Youth Programs, McLean Community Center.
"Anyone who enjoys music will love them. Those between 16-30 may have a particular affinity for the group," said Herr. "I've seen them perform several times... I thought they were wonderful."
Ball in the House is a soul-pop/R&B vocal group. They tour the US extensively. Over the years, the group has been an opening act and performed with the Jonas Brothers, Gladys Knight, Lionel Richie, Jessica Simpson, The Temptations, and Smoky Robinson, and KC & The Sunshine Band and others. They appeared on the NBC Today show and even did a Cool Whip commercial.
"The guys in the group are very engaging as well as wonderful singers. They perform a wide variety of songs," said Kerr. "I know everyone who attends will have a fun evening of music." Some may remember a cappella singing that is often associated with doo-wop and even perhaps Barbershop groups.
Ball in the House is composed of Ryan Chappelle (vocal bass), Dave Guisti (tenor), Suranjan Sen (tenor), Nels Urtel (baritone) and Jon J Ryan (beatbox). If you are not familiar with the beatbox, it is vocal percussion producing the sounds of drum beats. The group members hail from many different parts of the United States; each brings his own flair.
"We want our shows to be a place where audience members are able to escape for two hours into a world of music, harmony and laughter. When they leave our show, we hope they leave a bit lighter than when they came in, with a bounce in their step," said Guisti.
Ball in the House is expected to perform covers of any number of well-known hits along with some originals. There might even be audience participation with songs such as "Signed, Sealed, Delivered" or perhaps "Summer Breeze" according to Urtel.
As for the group's name, well there is a Brady Bunch television episode where a ball goes astray breaking a favorite vase.