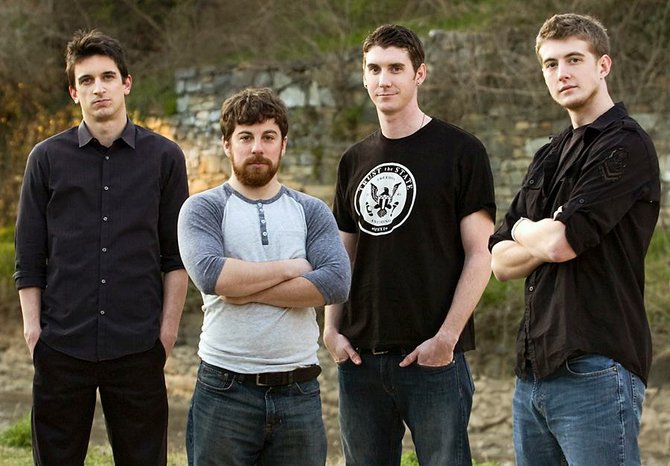 This Saturday marks a milestone for the Arlington-based band No Blitz. Having been together for a little over a year, the four-piece band is releasing their first EP, Never Satisfied, complete with a headlining spot at Jammin' Java.
The band prides itself on not dwelling too long on success, said singer/guitarist Ryan Wogh and bassist Dan Horner. Releasing the EP, which includes songs that Wogh has been performing for longer than the band's lineup has been formalized, means the band can get to work on their next album, for which 20-25 songs have already been written.
Wogh and Horner said the band, which also features guitarist James Cichra and Shane Steenberge, has a sound reminiscent of alt rock in the '90s, which Wogh laments is a "dying breed. Bands today are either doing an 80's pop thing, metalcore or in the screamo genre. We don't sound like anyone else."
They've been compared with bands like Foo Fighters and Rise Against, but Wogh's been listening to the album Thrice by Anthology, while Horner's had Gojira's latest on heavy rotation for the past few months. Listeners are invited to come by Jammin' Java to figure it out for themselves.
"It's more like we're hanging out and playing music," Horner said of the band's performances. The show at Jammin' Java is "an opportunity for us to play with two of the best local bands in one of the D.C. area's best clubs."
The EP features seven songs, all of which are available for download at the band's website, www.noblitz.com.
While the songs have been around for a while, Horner said each time the band performs them, there's something new to be discovered.
"You start pushing more and more" to create something more to a song as it becomes more familiar, he said. "Because of that, you write more and better songs," and the performances take on new levels of meaning and creativity.
The show kicks off at 10 p.m. with Fistful of Fifties, followed by Overdrive Superthruster, with No Blitz finishing it off. Tickets are $10 in advance, $13 at the door.
And then?
"It's on to the next big thing, the next gig, the next festival," Wogh said. The next show's already been scheduled, for Jan. 17 at the Angels Rock Bar in Baltimore, as part of radio station HFS's local musician showcase. But if Saturday's no good, No Blitz is also playing at O'Shaughnessy's in Alexandria on Friday night.