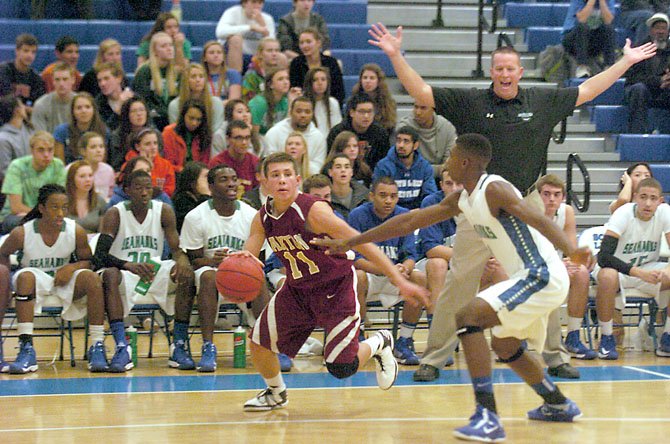 Reston — After missing from the perimeter moments earlier, Oakton guard Thomas Tribble had the ball back in his hands with the score tied in the closing seconds of the Cougars' Nov. 29 match-up with South Lakes.
He made the most of his second chance.
Tribble knocked down the game-winner from the left side of the floor with 3.7 seconds remaining and the Oakton boys' basketball team defeated the Seahawks, 51-49, during the first night of the Readers are Leaders Tip-Off at South Lakes High School.
"I put [the miss] out of my mind," Tribble said. "I knew there [wasn't much time remaining]. I took one dribble, pulled up and it went in."
Oakton trailed South Lakes, 43-39, midway through the fourth quarter when Tribble knocked down a pair of three-pointers to give the Cougars the lead. South Lakes held a 49-47 advantage late in the game, but Oakton senior Michael Fradette tied the score with a putback before Tribble buried the game-winner.
South Lakes led by as many as five points in the fourth quarter.
The victory was part of a 3-1 start for the Cougars, who defeated Lee, 70-48, on Nov. 27 and Mount Vernon, 49-46, on Dec. 4, and lost to Langley, 54-49, on Nov. 30.
"We were able to hold our composure when [South Lakes] took a five-point lead, and instead of forcing the issue, we got some pretty good looks from the field," Oakton Head Coach Dave Brooks said. "If we get good looks from the field, we have guys that can knock down shots."
Tribble, a 5-foot-9 senior, finished with 13 points and made a trio of three-pointers.
"He gives us a lot of energy," Brooks said. "He can shoot the ball from the perimeter and what he's doing a nice job of this year [is] he's not solely relying on the three-point shot. There are shooters on a basketball team and there are scorers on a basketball team. Last year, he was only a shooter for us. As a senior, he needs to be a complete basketball player and be a scorer."
Fradette, a 6-foot-5 senior, scored 10 points and grabbed nine rebounds.
"I love his aggression on the backboards," Brooks said, "and we feed off of his energy."
Junior point guard Robert Bacon (5-11) led Oakton with 16 points.
"Even though he plays the point guard spot, he's probably going to get anywhere from 12 to 16 looks a night," Brooks said. "We just need to make sure that he finds the right spots on the floor and that hopefully he's shooting the ball well that day."
Junior forward Dale Good (6-1) scored eight points for Oakton and junior center Pasha Mohsenin (6-3) scored four.
Oakton will host Yorktown at 7:45 p.m. on Friday, Dec. 7.