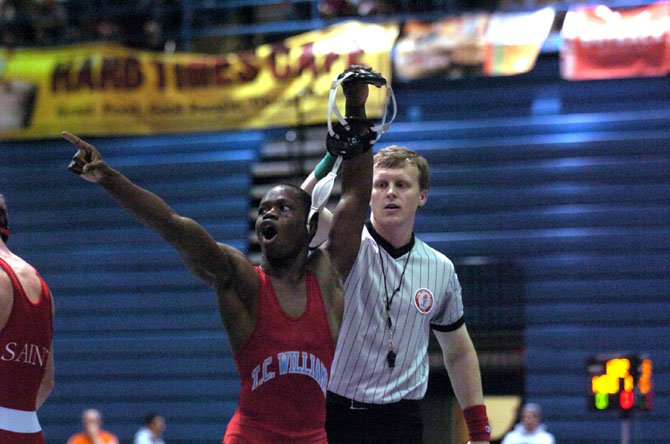 Fairfax — After a blow to the right ear left him hearing a ringing sound, T.C. Williams wrestler Ibrahim Bunduka used a timeout to compose himself. The senior trailed St. Stephen's & St. Agnes grappler Shaw Whitley, 4-3, in the third period of the 126-pound title match at the 2012 FinalAutoPrice.Com NOVA Classic and needed to make something happen.
"Coach [Chris Marshall] always told us never give up when you're in a close match," Bunduka said afterward. "I was just going through my head when we were doing drills where you have 30 seconds left [and] you've got to score quick …"
Bunduka tied the score with an escape, took the lead with a takedown and held on for an 8-5 decision and the 126-pound tournament championship on Dec. 8 at Fairfax High School.
"That's a testament to how hard his work has been up into this season and the last two years," Marshall said. "He's got a [full] gas tank and he doesn't know when to quit."
Bunduka's effort helped the T.C. Williams wrestling team finish ninth out of 32 teams with 111.5 points. Battlefield won the event with 194.5 points. Centreville and Fauquier tied for second with 180 points, followed by Paul VI (154.4), Lake Braddock (151.5), Mount Vernon (135), Annandale (131.5) and McLean (115.5).
Bishop Ireton (52) finished 25th and St. Stephen's (37) finished 30th.
TC's Shiruna Ntenda placed third in the 160-pound bracket, pinning Battlefield's Chase Richardson. Kareem Morris finished sixth in the 170-pound division. Nassim El Gourchal finished sixth in the 220-pound class.
Ireton's Jimmy Keegan took fourth in the heavyweight bracket. Nick Womach finished eighth in the 138-pound division.