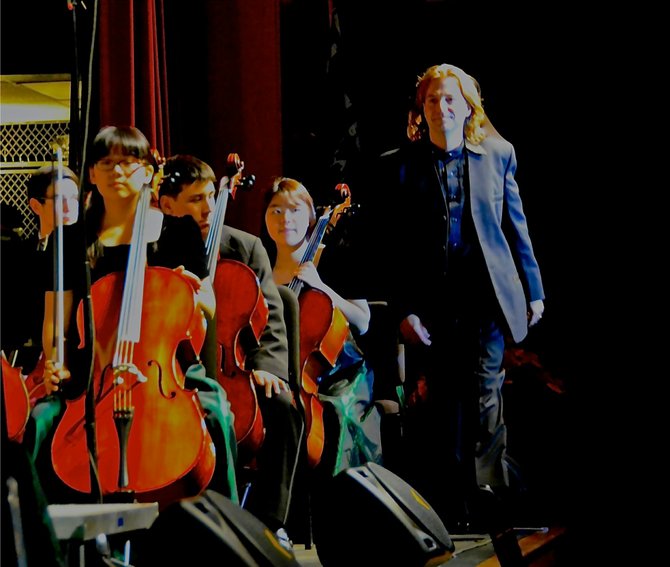 The Langley High School Orchestra presented "A Musical Journey to Germany" on Dec. 11. This concert was made possible by grants from the Fairfax Symphony Orchestra's SCORE program and the Langley High School PTSA. Under the baton of guest conductor Glenn Quader, members of the Fairfax Symphony joined the student musicians to perform works by Beethoven, Schubert and Brahms. Each piece was introduced in German and English by students in the German Honors Society.
Playing side-by-side with professional musicians with Mr. Quader conducting was a tremendous opportunity for the Langley orchestra students. Violist Sara Ibrahim, a junior, said, "Having the Fairfax Symphony play with us was really great. We all truly appreciate the time they invested in us. I think the encouragement from the professionals motivated us to strive to a higher level."
Senior violinist Darcy Davidson explained why she enjoyed playing for guest Conductor Glenn Quader. She said, "I feel as though each orchestra really watched him and responded to his cues . . . with him conducting us I think we played the best we ever have." Violinist Christopher Quion, a junior, summed up the experience: "Maestro Glenn Quader is an exemplary conductor, and his ensemble of winds and brass really brought a sense of grandeur."
Senior violinist Kevin Tan received a standing ovation for his performance of Pablo Sarasate's "Zigeunerweisen" with the Chamber Orchestra, conducted by Dr. Scott McCormick. The concert included the premiere of a work for string orchestra composed by senior Paul Li, "Orpheus: Reise in die Unterwelt." Ms. Bo-Min Son directed the Freshman Orchestra in the Brandenburg Concerto No. 3 by Bach.
Chigaya Sakai and George Prestoy played Brahms' Hungarian Dance No 1 on piano. Paul Li and Theron Masters performed Brahms' Waltzes and Dances on piano. Senior violist J.J. Stevens played the organ in Bach's Tocatta in D Minor.
The Langley High School Orchestra is grateful to the generous donors, sponsors and volunteers who made the concert and Silent Auction successful.