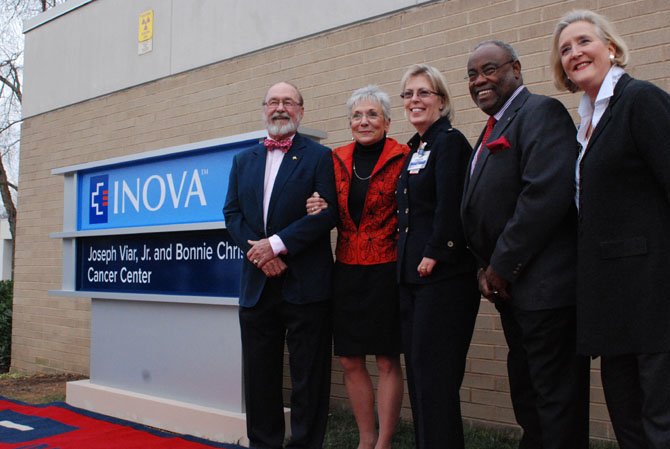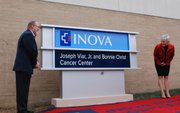 Inova Alexandria Hospital held a dedication ceremony Dec. 12 to officially name its cancer center in honor of longtime Alexandria residents Joseph Viar Jr. and Bonnie Christ in recognition of a $1.25 million Legacy of Life gift through Viar's estate.
"Joe has been a real visionary among supporters for the hospital," said Inova Alexandria CEO Christine Candio. "He has been an exemplary leader of the Inova Alexandria Hospital Foundation board and his generous gift kicked off our $10 million Legacy of Life Campaign."
Following Viar's announcement earlier this year of the donation through his estate to the hospital's cancer center, the dedication was planned to coincide with the hospital's 140th anniversary.
"At the age of 71, my children are grown and my grandchildren are thriving," said Viar when announcing his gift. "The journey to today leads me to think about the kind of legacy I want to leave behind. After much thought, it came to me that I want to give a future gift to the hospital."
The Joseph Viar Jr. and Bonnie Christ Cancer Center provides a full range of cancer care, including surgery, radiation therapy and chemotherapy, as well as dietary, emotional and support services to more than 500 patients each year.
Additionally, the center is the first in Northern Virginia to offer Trilogy, a patented linear accelerator that treats early cancer conditions, as well as the first in the region to offer prostate seed implants to treat prostate cancer.
"Estate giving is an essential part of our fundraising and allows us to anticipate long-term funding potential," Candio said. "We are so pleased that we have people like Joe in our community who support the hospital in such a way."
For more information about the Legacy of Life Campaign, contact Mary Myers at 703-504-7700.