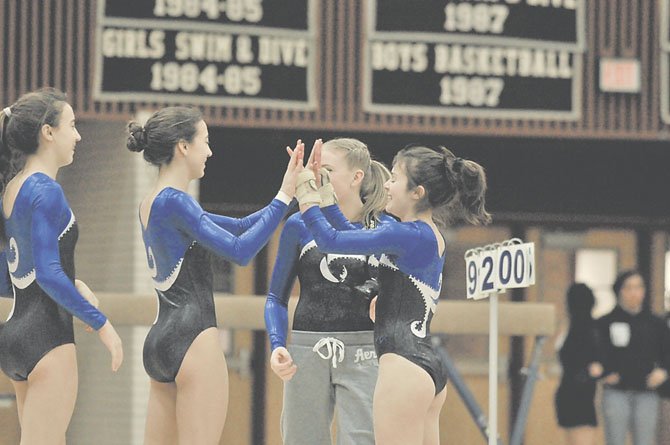 Washington-Lee gymnast Madeleine Sendek finished her beam routine at the National District championship meet with a back handspring and back tuck during her dismount. Pleased with Sendek's effort, head coach Joe D'Emidio hugged the junior and said: "It looked like what you see in the Olympics."
Later in the evening, W-L junior Mary Lynn Clark turned in a first-place floor routine while girls from other schools watched from around Skinner Field House at Mount Vernon High School.
The Washington-Lee gymnastics team put on a show Jan. 26, capturing the district championship by nearly 17 points over second-place Yorktown. The Generals produced the district's top three all-around gymnasts and four of the top five. W-L occupied the top five places on beam, top four on vault, top three on bars and top two on floor. But the Generals' display of dominance was no one-hit wonder. W-L has captured the last three district titles and has not lost a regular season meet in the three years.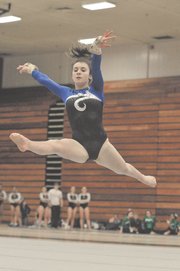 "To have a team go undefeated three seasons in a row in the regular season and then win districts three times in a row is just amazing for W-L High School, which has a great history of gymnastics that goes back to '64," said D'Emidio, who has coached the W-L program since 1976. "I'm tickled pink. We have the depth. I had gymnasts who were up in the bleachers who could easily have done very well in this meet. We just have a very strong team this year."
Clark led the way for W-L, capturing her third consecutive all-around district championship with a score of 38.1. She finished first by at least a half-point in each event — a level of domination developed by competing in club gymnastics, D'Emidio said. Clark is a member of Apollo Gymnastics in Woodbridge.
"She has been a real great role model for the other kids on the team," D'Emidio said. "[Clark shows] that you need to focus if you want to score well. It's nice to have a top-caliber gymnast on our squad."
With district opponents offering little in the way of competition, Clark said a desire to do her best keeps her motivated.
"I've always been the type of gymnast who paid more attention to my personal best rather than the judges' scores," Clark said. "Of course, I respect the judges' scores, it means a lot. But I just want to go in and do my best. A lot of the people here also know what I can do at club. If I mess up, everyone knows. That way I stay motivated. I try to do my best every time."
Clark finished runner-up at regionals during her freshman season, but a back injury limited her to bars and beam at the state meet (she placed eighth on beam). Last season, Clark won the region title, but a prior commitment to club gymnastics kept her from competing at states. This year, if Clark or the Generals earn a trip to states, Clark's schedule is open.
"I'm pretty excited for that," she said.
"To have a team go undefeated three seasons in a row in the regular season and then win districts three times in a row is just amazing for W-L High School, which has a great history of gymnastics that goes back to '64."

— Washington-Lee gymnastics coach Joe D'Emidio
W-L placed third at regionals each of the last two seasons, finishing one place shy of a team state tournament berth. This year, the Generals have their sights set on cracking the top two and reaching states. Team team's score of 142.6 at this year's district meet was the its best mark in three years — a sign W-L might have what it takes.
"Regionals, we just have to go for it," Clark said. "We're just going to have to throw all the skills that we can and just do our best. I think with a positive mindset, that's going to happen."
Sendek placed second in the all-around at districts with a score of 35.15.
"She still has more room to grow for regionals," D'Emidio said. "She's a pleasant surprise for us. This is her best meet so far for this year."
Sendek finished fourth on floor (9.075), third on vault (8.7) and bars (8.625) and second on beam (8.75).
"That was a really good beam routine for me," Sendek said. "My dismount was really good."
W-L's Kylie Auble placed third in the all-around with a score of 34.95. Maia Mandel (33.625) finished fifth, one place shy of a regional berth in the all-around. Annie Hatcher, Sophie Hatcher, Jennifer Laredo and Annie Siddle also competed for the Generals.
Regionals are scheduled for Feb. 9 at Lake Braddock Secondary School.