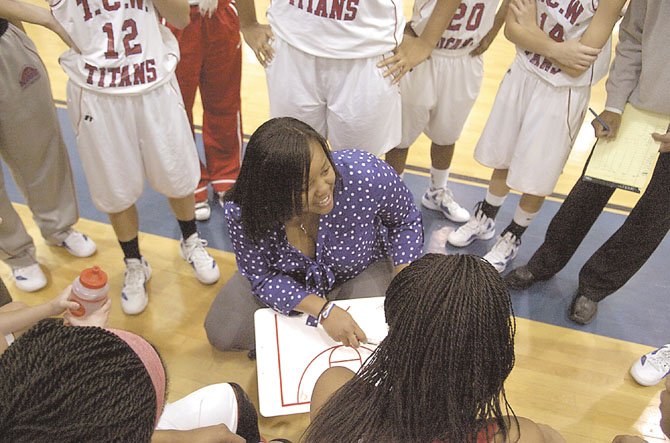 Alexandria — Trailing nemesis West Springfield by three points as the final seconds ticked off the clock, the T.C. Williams girls' basketball team put the ball in the hands of its best offensive player.
Senior guard Gaby Moss, referred to as the Titans' "offensive assassin" by head coach Kesha Walton, got a good look from 3-point range. Placed in a similar situation against Stonewall Jackson back in December, Moss buried a 3-pointer in the final minute of regulation to force overtime. On this night, however, Moss' potential game-tying attempt from behind the arc was off target.
West Springfield defeated T.C. Williams 40-37 on Jan. 30 at The Garden. The Titans trailed by 11 entering the fourth quarter but whittled the lead down to one when a three-point play by Moss made the score 36-35 with 2:25 remaining. A bucket by TC freshman Rejoice Spivey again pulled the Titans within one at 38-37 with 1:27 to play, but TC came up empty during its final three possessions with a chance to take the lead or tie.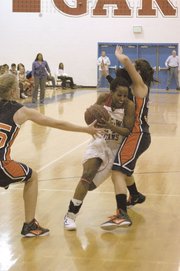 Moss scored a team-high 15 points. While Moss came up empty on her final attempt, Walton's postgame message to No. 24 was stay confident and keep shooting.
"There are going to be plenty more of those nights," Walton said. "We look for you as our offensive assassin to [take big shots]. Hold your head up high. It was there, you had a good look and sometimes it comes up short, but that doesn't mean you stop shooting. You keep shooting."
Moss said she'll use the experience to help her down the road.
"I try to stay optimistic," she said. "Coach always tells us that these games, they don't really count because when the playoffs start, everybody goes back to 0-0, so you use them as motivation. You use this feeling when you get tired: well, we lost by three. If I work harder, next time we'll win. It's more of a motivational thing: I didn't make it this time, next time I will."
In a battle of the top two teams in the Patriot District, the Titans suffered their second loss of the season to the Spartans by a combined four points. Last year, West Springfield won each of the teams' four meetings, including the district and Northern Region championship games.
"It's very sad because we know we're a better team than them," TC senior Brooke Ninman said. "We know we can beat them."
What will it take to beat the Spartans if the two teams meet again?
"Just play with high energy from start to finish," Ninman said. "We know we can beat them and we're going to beat them and we'll see them when it really counts."
"We know we can beat them and we're going to beat them and we'll see them when it really counts."

— T.C. Williams senior Brooke Ninman
Defense was a bright spot for the Titans, who limited the Spartans to their lowest scoring output of the season. During their first meeting on Jan. 6, West Springfield won 49-48 despite playing without first-team All-Met point guard April Robinson, who was out with an ankle injury. Robinson was back on Monday, playing in her fourth game after missing more than a month, and the TC defense put her to the test. TC senior Sofie Schedler and her teammates pressured Robinson in the backcourt, forcing her to work up and down the floor.
After the game, Robinson, who is working her way back into shape, was noticeably winded to the point of head coach Bill Gibson asking if his floor general was OK.
"The full-court pressure was killing me," Robinson said. "I'm so tired. … I haven't run like that in practice."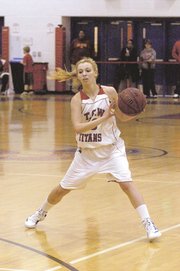 Schedler is the Titans' go-to defender when it comes to matching up with an opponent's best ball-handler.
"Sofie's the heart and soul of our defense," Walton said. "She gets it started. [She's] very scrappy, like a little gnat. She's all over the place and gives teams hell. They face [Schedler for] 90 feet and [she] never gets tired."
Georgetown-bound Logan Battle led West Springfield with 19 points. Lindsey Mares scored eight points, Amy Berglund finished with six and Robinson, who will play for Duquesne University next season, had five.
Robinson complimented the Titans' defensive effort.
"I thought they were playing good defense," she said. "They were really physical. We're just going to learn from that. We'll see them again, hopefully, in the playoffs."
Offensively, TC's 37 points established a season low. Other than Moss, no Titan scored in double figures. Spivey finished with six points and Schedler added five. Moss said the team wasn't being aggressive enough.
"We're a shooting team and we weren't taking a lot of shots," she said. "Of course we're not going to make that many if you don't take that many."
TC dropped to 13-6 overall, including 9-2 in the district. West Springfield improved to 17-2 with an 11-0 district mark. The Titans will travel to face South County at 7:45 p.m. on Thursday, Feb. 2. TC's final regular season home game is Feb. 10 against Annandale.
TC has lost its last eight meetings with West Springfield dating back to the 2009-10 season. After the most recent defeat, Walton said the Titans are focused on earning another chance to play the Spartans, which would likely be on Feb. 17 in the Patriot District championship game.
"At that point in time, you're really playing for something even more — you're playing for a title," Walton said. "Tonight would have been great, but we just need to focus and get ready for Feb. 17."