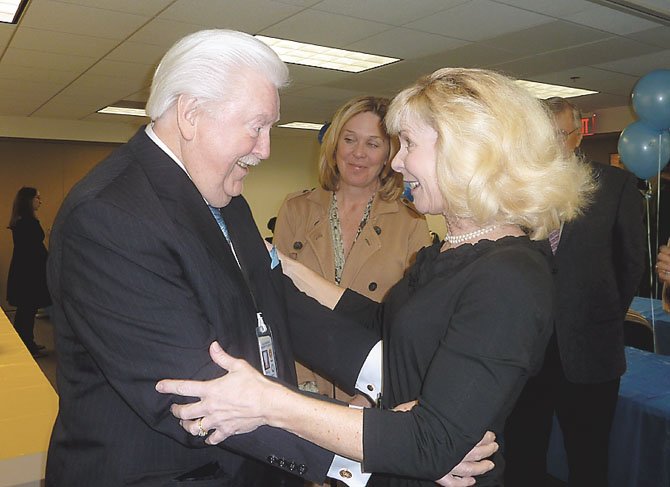 The Alexandria Sheriff's department bid farewell to Public Information Officer Harry Covert with a Jan. 5 reception at the William G. Truesdale Detention Center that was attended by law enforcement and public safety personnel from across the city.
"This is a sad day for us because Harry is leaving," said Sheriff Dana Lawhorne, who hired Covert for the position he created five years ago.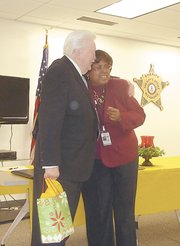 "People don't just say what a great guy Harry is, they say what a great friend he is and we will miss him very much."
Several of those in attendance paid tribute to Covert's service to the department.
"Harry transformed our office," said Commander Mondre' Kornegay. "His goodwill and way of making everyone a friend made a difference to us in the community."
Chief Deputy Lenny George agreed.
"Harry advanced the vision of the Sheriff's office," George said. "He made us a model for others to follow."
Chief Judge Becky Moore praised Covert's work and thanked him for his friendship.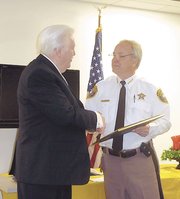 "He is always so cheerful," Moore said. "It's been such a blessing to me to have such a positive person in my life and he has been a wonderful friend to all of us."
Chief Magistrate George Ball joked that "Harry's the youngest old man I know. He is not just good for the sheriff's department, he has been good for everyone and I am glad to have known him."
Former N.Y. Daily News reporter James Meek returned to pay tribute to Covert.
"Harry went above and beyond just spelling Lawhorne's name correctly," Meek laughed. "On so many stories that I covered, there was always a Harry Covert angle."
As the reception came to a close, Covert thanked his former colleagues and friends for their support.
"I have enjoyed my time here very much," said Covert. "You guys are the best and I thank you for every day that I have been able to share with you."