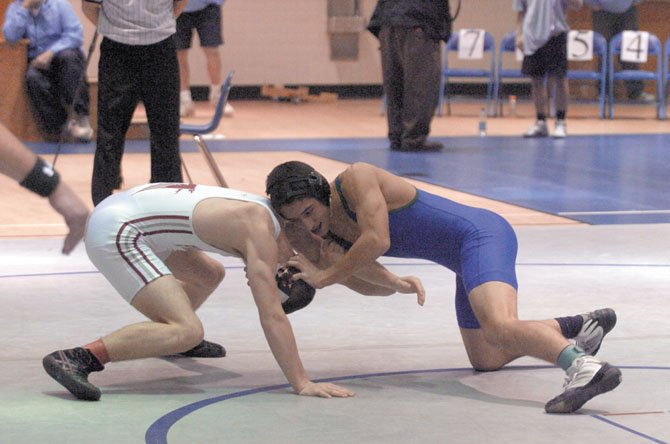 The South Lakes High wrestling team earned its first dual team victory of the season when it edged host Yorktown High, 46-44, in a non-district competition which took place on Jan. 11 in Arlington.
South Lakes, members of the Liberty District, is fairly young across the board with just a handful of seniors on its roster. Nevertheless, the Seahawks have some outstanding senior and underclassmen talent and could fare well at this weekend's postseason district championships, set to take place at Langley High School Feb. 3-4 (Friday and Saturday). The win over the Patriots of Yorktown, members of the National District, was certainly a good confidence booster as the Seahawks look forward to the postseason.
"It's been a topsy turvy season so far for the Seahawks wrestlers but we're working hard getting ready for the Liberty District Tournament," said South Lakes head coach Bruce Hall. "It's going to be a tough district tournament this year. Langley is by far the favorite, but the Seahawks have a shot at second place in the tournament, even though our goal obviously is to win it. I'm very proud of what this team has accomplished and we only have four seniors on our team this year. Next season could be a great one. We certainly will be working hard to make it one."
Several individual wrestlers have put together top notch seasons this winter for South Lakes. The Seahawks have one of the Northern Region's best wrestlers in senior Ryan Forrest, who has competed at the 152 and 160 weight classes. Season highlights for Forrest include finishing fourth place in his weight class at the Eastern States Tournament in New York and gaining several match victories at other prestigious national tournaments such as Beast of the East and the Super 32.
"He is one of the [Northern] Region and state's top wrestlers," said Hall, of Forrest.
Forrest plans to wrestle collegiately next school year. He has not made a final decision as to where he will attend but schools he is considering include the University of Virginia, Columbia University (New York City), Appalachian State University (Boone, N.C.), and Wesleyan College (Mecan, Ga.). He carries a 4.0 grade point average in the International Baccalaureate program at South Lakes.
"He will be a great wrestler wherever he ends up," said Hall.
Hall said Forrest will likely compete in the 152 weight class division at districts this weekend.
"Ryan will probably wrestle 152 pounds in the district, regional, and state tournaments, although he could probably do just as well at 160," said Hall. "Ryan has been undefeated at 160 this season and has even wrestled up to 170 for certain matches to help give his team a win."
ANOTHER SOUTH LAKES wrestler experiencing success is junior Kevin Argueta, who is 26-6 at the 106 weight class. Of his 26 wins, 22 have come by pins. He finished in first place at the Cavalier Classic Tournament earlier this season.
"Kevin's goal is to win the district tournament and place in the Northern Regional Tournament and go to states this year," said Hall.
At 113 pounds for South Lakes this season has been Abdul Raufi, a first year wrestler who, like teammate Argueta, also earned a first place medal at the Cavalier Classic.
"He has been as good as any first year wrestler I've ever had," said Hall, a longtime wrestling coach in the region, of Raufi.
Senior Devon Johnson has built up an impressive 20-5 record this season wrestling at 138 weight class. Three years ago, Johnson was an outstanding freshmen wrestler for Hall and the Seahawks. He ultimately, however, transferred to another school before returning to South Lakes for his 12th grade year.
"Devon will challenge for the Liberty District title and hopefully qualify at regionals to go to the state tournament," said Hall.
Other key members of the South Lakes lineup have included junior Chris Maginniss (145-division), a third year starter for the Seahawks; Eric Dismuke (170), whose season highlights include an eighth place showing at the early season Northern Virginia Classic and third place at the Cavalier Classic; junior Tommy Rugari (132); sophomore Colby Laxton (182); senior Owen Wolfe (220); and sophomore Alex Smurda (heavyweight).
"Eric [Dismuke] is a seasoned wrestler who gives us a shot in the arm at 170," said Hall. "Rugari, Laxton, Wolfe, and Smurda are all solid performers. Wolfe is a four-year starter."
South Lakes has been hit by several injuries this season, but Hall is hopeful the Seahawks will be fairly healthy for districts.
This week, South Lakes was scheduled to wrap up its regular season schedule with a district meet at Fairfax High on Monday, Jan. 30 and a home meet on the Seahawks' Senior Night the following night.