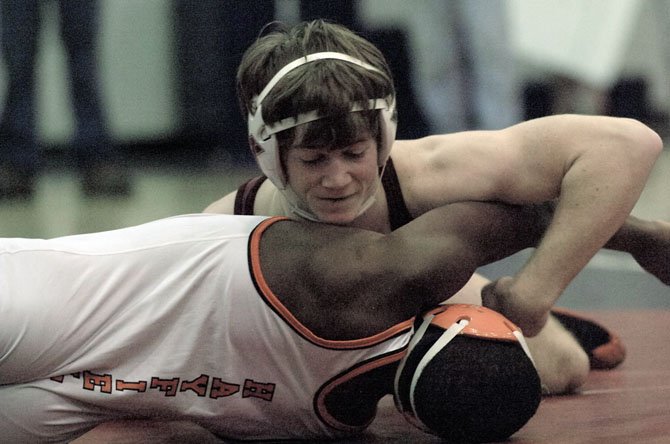 Falls Church — Mount Vernon senior Cody Marino pinned his opponent in the second period of the 126-pound final at the National District wrestling meet and headed for the door.
Eager to celebrate his district title, Marino realized he had paperwork to deal with. After diverting to the scorer's table to sign his name, Marino darted out of the Stuart High School gym and let loose a celebratory "Woooo!"
"It feels awesome," Marino said. "This was my last chance to get it since it's my senior year. My brother (Joey Marino) being a two-time district champ, I'm just happy I can finally get one."
Cody Marino was one of five Majors to win an individual championship on Feb. 4 and Mount Vernon cruised to its first team title since 2009, when the Majors finished in a first-place tie with Edison.
Led by seniors Dusty Floyd and Marino, Mount Vernon amassed a 39-3 record in dual meets during the 2011-12 season. On Saturday, the Majors continued their dominance, finishing 39 points ahead of runner-up Washington-Lee.
"[Marino is] always pumped," Mount Vernon head coach Anthony McDuffie said. "He's the emotional leader. Dusty's the point main, he is the emotional leader. Without Cody, we took [the team] to North Stafford and wrestled [on Jan. 7]. It was the worst beating we took this year. The only time we got beat by double digits was against Freedom South Riding and it was without Cody Marino. It was evident when we got on the bus: We should have just turned around and went back because that's how much he means to the team."
Marino's victory in the district final against W-L's Jose Vasquez improved his season record to 43-3. While Marino remained impressive, Floyd remained unbeatable, improving to 51-0 with a second-period pin against Hayfield's Vernon Hadley in the 170-pound final. Floyd captured his third district title to go with last season's Northern Region championship and fifth-place finish at states.
"I didn't really expect to be undefeated," Floyd said. "I expected I was going to find someone in North Carolina or Maryland, somewhere, and they would beat me. It's not so much that I'm undefeated, I think it's the fact I won regionals last year that [makes me] think some guys are going to be gunning for me, but I'm going to be ready."
On Jan. 25, Floyd became Mount Vernon's all-time leader in victories, surpassing Tony Martinez's record of 147 set in 2003. Next on Floyd's list — his main goal — is winning a state championship.
"That's something people can't take away from me if I win it," Floyd said. "Someone can come along and break that [wins] record. It's still cool and everything, but no one can take away a regional or state championship."
McDuffie called Floyd a "joy to coach" and said the grappler has what it takes to wrestle at the Division I level.
"We want him to win the state championship," McDuffie said, "but he'll still be one of my all time favorites if he doesn't."
John Victoria started the district finals on a positive note for Mount Vernon, winning the 106-pound title via 3-1 decision against W-L's Narankhuu Ganbaatar. While the Majors held a sizeable lead heading into the finals — one opposing coach came over to congratulate McDuffie prior to the finals — McDuffie said he wasn't comfortable until Victoria's victory.
"I would like to think we still would have won — might not have been [by] 40 points, it might have been 20 points," the coach said, "but that was what got us back to where I could be happy."
Tasi Mathias won the 195-pound title for Mount Vernon and Nathan Haro captured the 220-pound championship.
Mathias is one of three junior transfers who have played a major role in Mount Vernon's success. Vika Mathias finished runner-up in the heavyweight division at districts. Xavier Craig (182 pounds) has also competed this season for the Majors.
"We knew this was our year," Marino said. "We've lost to Edison by a couple points for the last two or three years. We had three transfers come in and they just fell perfectly into place."
The Northern Region meet will be held Friday and Saturday, Feb. 10-11 at Hayfield Secondary School.