The Whitman boys' basketball team trailed by 18 at halftime and lost to Springbrook 62-34 on Feb. 3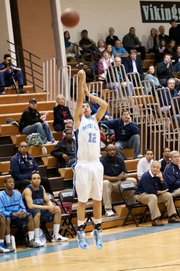 at WWHS. Andrew Castagnetti led the Vikings with 16 points. Jake Harrison finished with six points. Whitman (4-14) will travel to face Gaithersburg at 5:15 p.m. on Friday, Feb. 10.
Clarksburg Snaps Churchill Boys' Win Streak
The Churchill boys' basketball team lost to Clarksburg 47-45 on Feb. 3, snapping the Bulldogs' eight-game win streak and dropping their record to 14-4.
After clinching back-to-back division titles with a victory against Richard Montgomery on Jan. 30, Churchill beat Walter Johnson 50-37 on Feb. 1. Sam Edens scored a career-high 24 points for the Bulldogs. Thomas Geenen grabbed 12 rebounds. Churchill will host Northwood at 5:15 p.m. on Tuesday, Feb. 14.
Churchill Girls Bounce Back
Two days after losing to Walter Johnson 48-41, the Churchill girls' basketball team defeated Clarksburg 52-30 on Feb. 3. The win improved Churchill's record to 15-3. Through 18 games, the
Bulldogs were ranked No. 20 in the Washington Post's top 20. Churchill will host Northwood at 7 p.m. on Tuesday, Feb. 14.