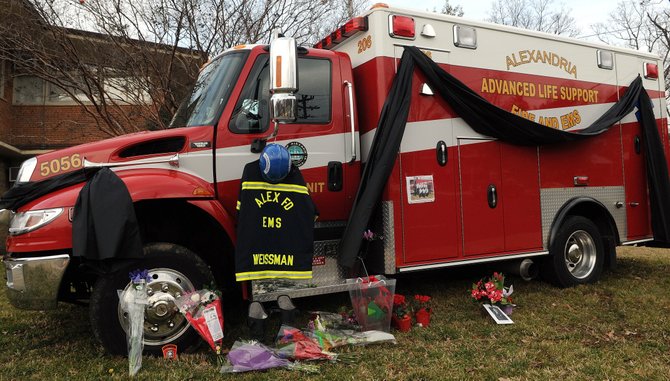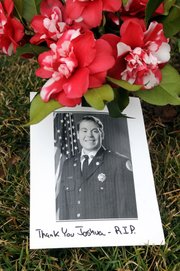 Alexandria paramedic Joshua Weissman, 33, died at 4:25 p.m. on Feb. 9 after fighting for his life following a fall from an overpass on I-395 near the Shirlington exit.
Weissman was trying to get to a vehicle fire on the overpass when he slipped and fell 20 feet into Four Mile Run Creek, sustaining a severe head injury. He was given CPR on the scene then transported to Washington Hospital Center, where he died the next day.
Weissman was hired as a Medic I for the Alexandria Fire Department in April 2006, and he was promoted to Medic II the following year. Most recently, he was assigned to the D Shift at Fire Station 206 on Seminary Road.
Alexandria Fire Chief Adam Thiel described Weissman as an enthusiastic and engaging instructor, taking pleasure in researching and proposing innovative procedures and protocols, and identifying the latest equipment on the market. He was an active participant in the EMS Training Committee and the EMS Quality Management Committee. Weissman was involved in establishing and implementing a training program on mass casualty incidents.
He was also a recipient of an Alexandria Chamber of Commerce Valor Award.
Weissman had received letters from members of the Alexandria community commending him for his work and his effectiveness while on scene at incidents. In one situation, for example, he responded to a incident in which a grandmother who had been carrying her young grandson tripped and fell. The boy's mother, upon arriving home after the incident, was concerned with the medical status of her son. Weissman revisited the home and reassured the mother that he had thoroughly checked the little boy during the initial response, alleviating the mother's concerns. The mother was so impressed by Weissman's concern that she wrote a letter to the fire chief expressing her appreciation for Josh's actions.
A native of Ithaca, N.Y., he lived with his wife, Rebecca, in Bristow, Virginia.
Funeral arrangements are pending.