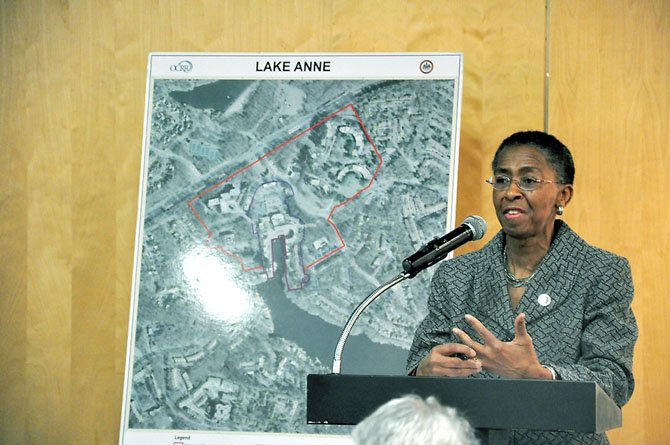 Reston — Fairfax County has started exploring opportunities to redevelop the Crescent Apartments, a 181-unit complex located just northeast of Lake Anne. The county began accepting Requests for Proposals Feb. 9.
"What we're looking for are people who want to create a high-quality development here. We want to keep housing options, including citizens who are seniors, we want to keep housing opportunities for those who have more modest incomes," said Barbara Byron, director of the county's Office of Community Revitalization. "We want to make sure the area is really pedestrian and bicycle oriented. And we want to, more importantly from my perspective, bring more people to Lake Anne, so the people who own the retail establishments and restaurants can thrive where they have been having some struggles recently."
The county purchased the Crescent Apartments in 2006 to be used as affordable housing. The process that has begun is just the first step in a multi-year process which will not affect current residents now or in the near future. There will not be any construction or redevelopment for at least several years.
Supervisor Cathy Hudgins (D-Hunter Mill) said the goal of the process was not to take away affordable housing, but to enhance it and the area around it.

"We want the community and particularly the residents of Crescent to know that we're trying to preserve as well as expand affordable housing," she said.


Map
Crescent Apartments
Crescent Apartments
ACCORDING TO THE COUNTY, up to 935 residential dwelling units could be constructed in accordance with the Comprehensive Plan. Ideally, they would like to see adjacent landowners and developers work jointly in the process.
The development opportunities are made possible by the Public-Private Education and Infrastructure Act of 2002. John Payne, deputy director for Real Estate and Development of the department of Housing and Community Development pointed to projects such as the HOT Lanes and Metro development as an example of what could be done.
"These are public-private partnerships, new ways for people to understand how to finance projects that wouldn't otherwise take place," he said. "That allows us to say to the private sector, if you have a better way of doing something, or a better idea of how to finance something, or some way to manage a project that might be needed by the community, you bring your idea forward, and we'll evaluate it."
Payne said that as Reston has evolved, Lake Anne has turned into more of a destination than ever, and redevelopment would be one way to take advantage.
"We've seen some of the other village centers to move towards a more suburban model, and I think everybody embraces the fact that the historic character of this village center and its location on the lake is a unique feature and needs to be vibrantly infused with people being part of the community and enjoying it," he said.


AT A PUBLIC MEETING at the Reston Community Center Lake Anne Wednesday, Feb. 8, locals had mixed feelings about what the county discussed. Harold Bedford said he thought the redevelopment plans might spell the end of Lake Anne as he knows it.
"I hear a number as big as 935 potential units, and even though that's the max, that would be devastating to what has been built here at Lake Anne over the past 40 years," he said. "I'm all for supporting these businesses and making sure this is a special place. But that many new residents, buildings, parking spaces and the construction that would come with it could drive people so far away that they'd never come back."
Others saw it as a necessary evolution to help bring Lake Anne into a more modern age.
"Lake Anne itself is beautiful, but you take a look around and it almost seems like a relic from another time," said Stephen Espinoza. "It's a great place to bring people from out of town, or to walk around and look at our past, but that's not helping people who are trying to make their living here. If it's to become a true, self-sustaining commerce center, then some changes have to be made, and we're going to have to trust the county to do it in the smartest way. I know Cathy, as a Restonian, won't let anything happen that will change this place for the worse."
Updates on this and other revitalization efforts at Lake Anne can be found at www.fcrevit.org/lakeanne.