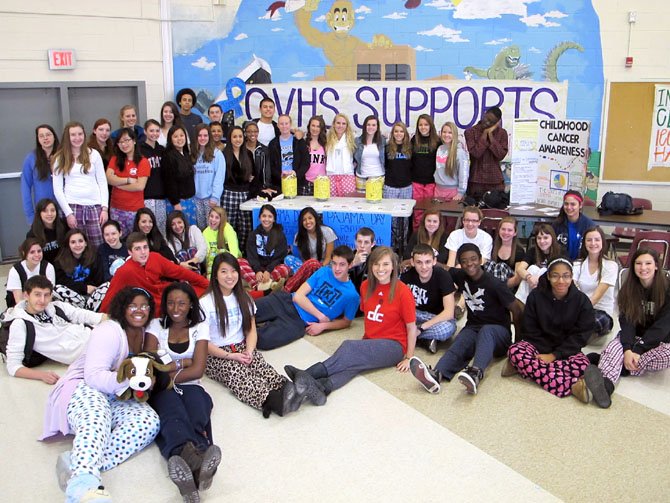 Centreville — When it comes to raising money for a good cause, even the youngest schoolchildren can help. And last week, students at Centreville High, Liberty Middle and Centreville Elementary raised nearly $5,000 for childhood-cancer research.
Liberty seventh-grader Shannon Lyons organized a PJammin Day in honor of her friend and classmate, Andrew McCaffrey, 13, currently being treated for bone cancer. Last Friday, Feb. 3, students at all three schools got to wear their pajamas to class that day, as long as they brought $1 with them.
All the money was collected during lunchtime to be contributed to the American Childhood Cancer Organization (http://acco.org/) for research. Centreville Elementary raised $2,015 (some of the teachers matched the classroom totals), and Liberty Middle and Centreville High raised $1,466 each, for a total of $4,947.
Centreville Elementary got involved because that's the school Shannon attended prior to Liberty. And Centreville High participated because of Andrew's siblings and Wildcat cross country Coach Kelley Devlin. Andrew's brother Michael, a senior, runs both cross country and track; his sister Sara, a junior, manages the cross-country team.

"PJammin Day was a huge success at CVHS," said Devlin. "I would 'guesstimate' that probably 80 percent of the student body was in PJs, and probably the same number contributed donations of various amounts during CATS and school lunches. I was so in awe as I saw students stream into the cafeteria with their money out and ready."
"Everyone knew Feb. 3 was a special day in honor of Andrew McCaffrey and for an amazing cause — supporting children with cancer," continued Devlin. "Students were so quick to empty their wallets into our containers for the American Childhood Cancer Organization."
She also praised Shannon for creating a poster-board display with facts about childhood cancer to raise awareness of it, as well as the Centreville High SGA's Liz Johnson who helped out with posters and banners advertising PJammin Day.
"So many kids participated and donated more than $1," added Shannon's mom, Sue Lyons. "I'm so excited that so much was donated to such a great cause."
Calling both Centreville High and the local community amazing, Devlin said, "I'm so proud of all of you. Thank you so much for your help and support. This will be a tradition at CVHS and other local Centreville schools for years to come."