For almost a century, the Commonwealth Transportation Board has been partying like it was 1922. That was the last time the board's composition was reconstituted, reflecting the 1920 Census. Since that time, the population has grown disproportionately in Northern Virginia, especially after World War II. But the Commonwealth Transportation Board did not reflect that change. The disparity has become increasingly evident in recent years, as the region's roads have become choked with traffic.
Now, 90 years later, leaders in Richmond are finally updating the composition of the Commonwealth Transportation Board.
This week, the House of Delegates approved House Bill 864 on a bipartisan vote of 51 to 47. The bill would require membership of the board reflect the most recent census figures and Virginia congressional redistricting. As is often the case in Richmond, the opposing sides in this debate are more about region than party. Del Scott Surovell (D-44) has unsuccessfully carried similar legislation for the last three years.
"Northern Virginia is obviously where the population growth is, so you would think that's where the power should be," said Kyle Kondik, political analyst with the Virginia Center for Politics. "On the other hand, Northern Virginia is largely represented by Democrats and Democrats don't have much power in Richmond right now."
THIS YEAR, Surovell was able to gain the support from two Republicans who have skin in the game, Del. Tom Rust (R-86) of Herndon and Del. Christopher Peace (R-97) of the Richmond area. The bipartisan team worked together to build support for the measure, which is now on its way to the state Senate. In addition to updating the composition of the board to reflect the 2010 Census, the legislation also requires regular realignments of the board's membership with each census and congressional redistricting.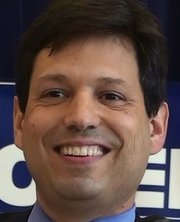 "This bill more closely links the members of the Transportation Board with the citizens they're supposed to represent," said Surovell in a written statement. "This bill is good not just for the urban crescent of Northern Virginia, Richmond and Hampton Roads but for the whole commonwealth."
Because the bill had broad multiregional and bipartisan support, Surovell said it could lay the groundwork for future cooperation between Northern Virginia, Richmond and Hampton Roads on transportation.
"The Richmond region is a necessary partner in this effort for years to come," said Peace in a written statement. "HB864 aligns the composition of the Commonwealth Transportation Board with what will be the high growth areas of the state from Northern Virginia to Hampton Roads."
THE COMMONWEALTH transportation board is a 17-member body appointed by the governor that establishes administrative policies for Virginia's transportation system. Board members allocate highway funding to specific projects and provide funding for airports, seaports and public transportation. Its major projects include the Virginia Mega Projects with the Virginia Department of Transportation and the Dulles Corridor Metrorail Project with the Department of Rail and Public Transportation.
"This change is long overdue and will cause the CTB to better serve the urban areas of the state," said Del. Vivian Watts (D-39), who served as Secretary of Transportation under former Democratic Gov. Gerald Baliles. "The idea that rush hour is seven hours in Northern Virginia, four hours in Hampton Roads and two-and-a-half hours in Richmond is out of touch with reality, and this change will move the CTB toward realistic analyses."