Burke — After turning in a potentially historic performance at the Northern Region championships on Feb. 9, members of the Washington-Lee gymnastics team sat in a group on the gym floor at Lake Braddock Secondary School and awaited the results.
W-L finished third in 2010 and 2011, falling short of a trip to states by just one place. The Generals had a feeling they cracked the top two this time but weren't certain of just how well they had performed.
After individual achievements were recognized, focus shifted to team scores. When it was announced McLean finished runner-up, W-L gymnasts covered their mouths in a state blissful disbelief. Standout junior Mary Lynn Clark fought back emotion by fanning her face with her hand, and the Generals scooted closer together, locking arms in anticipation of what they already knew was coming. W-L received confirmation when it was announced moments later, causing the Generals to burst into celebration.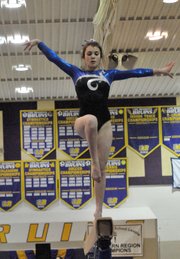 Washington-Lee won the 2012 Northern Region championship, holding off McLean by less than four-tenths of a point. It was the first region title in the history of the W-L girls' gymnastics program and is believed to be the first region championship for any sport at Washington-Lee High School since 1977, said Director of Student Activities Carol Callaway.
The Generals captured the crown by posting a score of 145.191, the best score in program history, according to 35th-year head coach Joe D'Emidio. McLean finished with a score of 144.851, followed by Robinson (137.441), Lake Braddock (135.376), Stone Bridge (135.042), Woodson (134.316), Yorktown (129.918) and Chantilly (126.749). The Generals snapped Chantilly's three-year run as champion and the Concorde District's five-year stretch atop the region. Herndon finished first in 2007 and 2008.
"Fairfax has some tough teams," D'Emidio said, "so for little Arlington to win this region trophy here, it's great to bring this back to Arlington County."
While D'Emidio rejoiced afterward, the veteran coach had his doubts toward the end of the meet whether W-L would beat McLean. While the Generals completed their final rotation on bars, the Highlanders were turning in a stellar performance on beam. McLean finished with a beam score of 37.034, the top score of any team in any event.
"I thought they had us," D'Emidio said. "We just finished bars and then I'm watching them on beam and I saw a couple good routines and I said, 'I can't watch this anymore.' I went into the hospitality room, had a water and I came back out and I started talking to some people. I didn't watch any more routines.
"… But then when I was watching them giving out the awards, I was noticing we were getting a lot of awards. I said, 'Maybe there is that chance.'"
Clark led W-L in award-gathering, placing second in the all-around (38.208) behind Madison's Evelyn Nee (38.683). Clark finished first on floor (9.7), second on bars, (9.675) and fifth on vault (tie, 9.3) and beam (9.533).
"It's so rewarding," Clark said. "I can't even describe it with words. I'm so happy. The past two years were so frustrating. Me, Maia [Mandel] and [Madeleine Sendek], we would go to states individually, but it's not the same without a team. We're just going to have so much fun and we deserve it. We've worked so hard this year."
"It's so rewarding. I can't even describe it with words. I'm so happy."

— W-L junior Mary Lynn Clark
Clark finished second in the all-around at regionals as a freshman, but a back injury limited her to competing on bars and beam at states (she placed eighth on beam). Clark won last year's region title as a sophomore, but a prior commitment to club gymnastics kept her from competing at the state meet. This year, the junior faces no such obstacles.
"I'm going this year," Clark said. "My schedule is clear."
Clark competes at the club level for Apollo Gymnastics in Woodbridge. D'Emidio said her leadership is one of the reasons W-L captured its first region title.
"Watching her concentrate and go for it, the other girls said, 'Well, I can do this, too," and so they went for it," D'Emidio said. "And I think also going two years at this meet and coming in third, I think they had a taste that they didn't want to be third or second, and they threw some bigger tricks that they normally don't."
Sendek was 11th in the all-around (35.825), including finishing in a seventh-place tie on vault (9.267). Kylie Auble finished 13th in the all-around (35.625), but placed in the top eight in three of four events — fourth on bars (tie, 9.125), sixth on floor (tie, 9.35) and seventh on vault (tie, 9.267).
Sophie Hatcher, Anna Hatcher and Mandel also competed for the Generals.
"That was really, really exciting," Sendek said. "We really wanted to win."
The state championships will be held Friday and Saturday, Feb. 17-18 at Salem High School in Virginia Beach.
"We are extremely proud and excited for the gymnastics team [and] for our coaches that put in so much time with the girls," Callaway said. "For Washington-Lee, it's a very proud moment."