Alexandria — The Neighborhood Pharmacy owner Stacy Swartz was presented the 2012 Heart of Del Ray Award as representatives from the Del Ray Business Association made a surprise visit to the pharmacy Feb. 13 to reveal the winner of the online poll.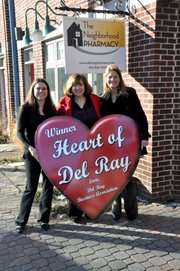 "Of all the events I work on, this is one of my favorites because I love getting to read all the wonderful comments about the amazing businesses in Del Ray," said DRBA representative Gayle Reuter. "And these businesses really do help make Del Ray feel like such a welcoming small town and is the reason why we love to live, work and shop in Del Ray."
The Heart of Del Ray Award is presented annually by the DRBA during the Valentine's Day holiday to the business that serves as the "heart and soul" of Del Ray. More than 400 votes were cast in the week-long voting prior to the presentation. Other finalists for the 2012 award were: Greener Cleaner of Del Ray, Pork Barrel BBQ, St. Elmo's Coffee Shop and Taqueria Poblano.
As one online comment noted: "Stacy and the Neighborhood Pharmacy truly reflect the home town feeling of Del Ray. Everyone is always helpful, always friendly and always going out of their way for you."