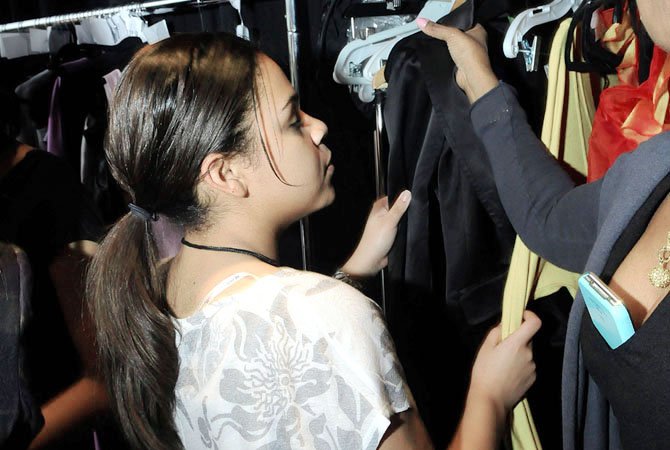 Mount Vernon — High fashion requires more than good looks. High fashion requires a complete approach that combines education and real world experience.
For those who study at the West Potomac Academy of Fashion Design, the ins and outs of the industry are taught through coursework that emphasizes creativity grounded in practicality.
"Students do a lot of fun shows, but they also learn the business side," said Maggy Francois, director of the West Potomac Academy of Fashion Design. "Students design, but they also learn fashion law, how to lobby against piracy, and how to write for fashion journals."
Classes at the academy are comprised of two levels, including level one with a focus on practice and level two that emphasizes process in action. Before students create their own collection they are required to form a collage of patterns known as a mood board, and while the majority of students are female they are all required to create male garments.
The key element of fashion design, however, is real world experience. Students at the fashion academy are given opportunities to perform on the runway, and to learn what it takes to put on a successful show.
Britanie Dantes, a senior at Jeb Stuart High School who is enrolled in the academy, helped behind the scenes at the most recent runway event at Arlington's annual Crystal Couture last week.
"We're thrust into an environment where we see what designers do," said Dantes. "We learn to be calm under pressure, it's a fast paced learn-as-you-go kind of thing, and no one can really prepare you."
The academy's presence at Crystal Couture started four years ago when students competed in the t-shirt design contest. Since then the academy has risen in prominence, with Francois acting as the executive producer of the weeklong fashion event.
Crystal Couture organizers have been quick to recognize the importance of the academy given that the region has become known for its sense of style.

"The academy students are involved in all levels of the event, we even have former students presenting their collections," said Angela Fox, president and CEO of the Crystal City Business Association. "It's great to have schools like that as D.C. becomes more well known for fashion."