Alexandria — Intense mortar fire pierced the early morning hours of Oct. 6, 1966, as a young infantry officer barely out of West Point led a search and clear operation near Dong Ha, a village strategically located along the Vietnamese Demilitarized Zone. Before the ensuing 12-hour battle ended, the senior American advisor would be killed and First Lieutenant Barry R. McCaffrey severely wounded as he organized a counterattack that successfully repelled the Viet Cong.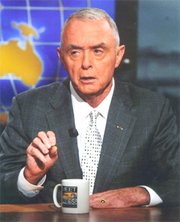 McCaffrey was awarded the first of two Distinguished Service Crosses for his heroism that day and as a general went on to command the 24th Infantry Division in Desert Storm where he eventually earned four stars, the Army's highest peacetime rank. After 32 years of active duty service, McCaffrey retired in January of 1996 to become the director of the White House Office of National Drug Control Policy.
"Those five-and-a-half years are probably the most useful period of my entire life," said McCaffrey of his time as America's Drug Czar. "We were able to increase substantially the money desperately needed for drug treatment and prevention."
During that time, McCaffrey took on the then-unpopular role of leading the fight against performance-enhancing drugs in sports.
"This was a huge problem for U.S. sports teams," said McCaffrey, who recalled being booed as he arrived at the 2000 Olympic Games in Sydney. "From Little League to professional sports, it felt like David taking on Goliath."
McCaffrey has persevered in his fight and has become a pioneer on raising awareness of the causes and treatment of drug addiction.
"While there was only marginal progress made in those early years, we moved the conversation forward so that now we are seeing results," said the Alexandria resident who will be the keynote speaker at the Friendship Veterans Fire Engine Association breakfast Feb. 20. "My biggest concern now is the drug use among adolescents, the14-year-olds smoking marijuana and drinking beer."
For his continued efforts on the front line of drug policy, McCaffrey received the 2004 Department of Health and Human Service Lifetime Achievement Award for Extraordinary Achievements in the Field of Substance Abuse Prevention.
"We are already substantially improved from where we were 15 years ago," McCaffrey said. "We are not even close to being there but significant changes are taking place, especially in sports as athletes, doctors and enablers are being prosecuted."
McCaffrey, the principal consultant at BR McCaffrey Associates in Old Town, serves as an adjunct professor of International Security Studies at the United States Military Academy at West Point and will discuss security issues in his keynote address that kicks off Alexandria's George Washington Birthday celebration.
"I will give an update on the national security challenges facing the United States today," said McCaffrey, whose son, Col. Sean McCaffrey, is in Afghanistan serving his third tour of combat duty. "While America may be sick of the war in Afghanistan, there is still enormous support and trust in our Armed Forces to protect our nation."
Married for 47 years to his wife Jill, McCaffrey was the most highly decorated serving general upon his retirement. An outspoken leader within the Army for women's rights and the rights of minorities, he was awarded three Purple Hearts and two Silver Stars in addition to the Distinguished Service Crosses for wounds received in his four combat tours.
"The most trusted institution in society is still the U.S. Armed Forces," McCaffrey said. "That is generated by the integrity and character of our sons and daughters who continue to serve our country."