Barbra Yakimchick Zimnoch, a long-time Great Falls resident and business owner, passed away on Feb. 7. For 31 years she owned and operated The Golden Pineapple in the Great Falls Village Center. Prior to that, she owned a gift shop at Lake Anne in Reston.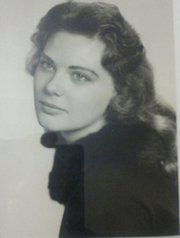 Zimnoch is survived by her four children, Rosemary Maione, Theresa Zimnoch, Kara Fleshner and Gary Zimnoch and three grandchildren, Lindsay Bree Gonzaba, Nicholas Anthony Gonzaba and Gundrun Grace Fleshner. She leaves behind a husband, Gabriel S. Zimnoch, whom she married in 1963.
The Golden Pineapple was known as much for Barbara's personality as it was for the store's offerings. She created an atmosphere in the store where people could come by to stay a while and talk. She was a social woman who forged lifelong friendships with many of her customers. "It was always a laugh of some sort and the story of the day when I stopped in," customer and friend Jackie Esch said. "She knew the community so well and she was there for everyone. She will be remembered for her warmth, kindness and generosity," Esch said.
Her children remember a woman who deeply loved Great Falls and especially enjoyed children. "My mom always loved sitting on the porch at Halloween passing out candy to the thousands of kids. She watched so many grow up and loved when they visited. My mom knew the town and its people," said her daughter Theresa.
Settling in Great Falls was a joy to Zimnoch, who had traveled the world as a child. She was born in Honolulu, Hawaii during the tumultuous times of Pearl Harbor. When she came to the mainland United States she lived in Kentucky, Texas, Maryland, Ohio, Tennessee and Rhode Island before Virginia. But once she took up residence in Great Falls she did so with gusto. She became quite involved with the town not just through her business but was active in several civic organizations and the Republican Women's Committee in Great Falls.
Though a life-long Republican, she had an affinity for one Democrat, John F. Kennedy. They both attended Holy Trinity Church back when he was in Congress. She had a beautiful singing voice and was a part of the choir. After service one day she found his hymn book with his name and address written in it. She went to his house to return it and Kennedy thanked her and told her he remembered her and thought she had an angelic voice.
Zimnoch was a multifaceted woman who did everything from knit to ride horses. Social graces were important to Zimnoch who, though not raised in the South, felt that manners and a well tended garden were prime attributes for a woman.
Many homes throughout Great Falls are decorated with pieces bought at The Golden Pineapple. The store's Christmas and Easter selections were legendary. Holiday decorating was one of Zimnoch's favorite pastimes.
Zimnoch loved to laugh and shared her laughter with others. She loved the symphony, mystery novels, Clay Aiken, crime shows and the Redskins. A private celebration of her life will be held later this year by her family.