There were only a few tears among the cheers and smiles at the recent Cub Scout Pinewood Derby in McLean. The boys of McLean's Cub Scout Pack 1144 are familiar with the possibilities for victory or disappointment. But mostly, the 169 Cub Scouts that make up the Pack are full of smiles as they gather each year for a day of friendly competition and racing.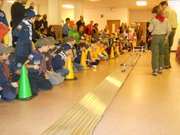 This year's Pinewood Derby was held Saturday, Feb. 11, at Andrew Chapel United Methodist Church, which sponsors the Pack. The large ground-floor meeting room was transformed into a racing arena, with a long four-lane track nearly spanning the length of the room.


THE BOYS, representing 16 Cub Scout dens drawn from Colvin Run Elementary School, Spring Hill Elementary School, and the Langley School, watched with concentration as their homemade cars, weighing no more than five grams, raced each other in an elimination tournament. Hours later, a final champion was finally named. The top three placers in the grand final race were Tyler Donohue of Spring Hill Elementary (first place), Jack Bush of Colvin Run Elementary (second place), and Joseph Smith of Colvin Run Elementary (third place).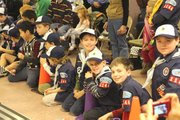 "It's a great community event," said Kelly Wilson, mother of a fourth-grade Cub Scout from Spring Hill Elementary. "We've done it the last three years. It's something that my husband and son work on every year. Something they get to create on their own. Boys and cars are always a big event. They love to race against their own teammates and Cub Scouts."
Each year in late December, the Cub Scouts of Pack 1144, made up of first through fifth graders, are given a small box containing the long-awaited Pinewood Derby kit. In the kit are a small wooden block, not quite the size of a brick, along with plastic wheels and metal axels. The boys, typically with help from a parent, turn the contents of the kit into a racing vehicle in the period of about six weeks. There is plenty of room for creativity as the boys design, shape and decorate a vehicle they hope will not only reflect their intended design, but will be built for speed.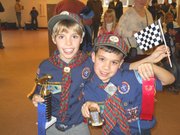 THE PINEWOOD DERBY is a nationwide Cub Scout tradition dating back to 1953. It was then that Cub master, Don Murphy, from Manhattan Beach, Calif., came up with the idea. Murphy's son was too young to participate in the Soap Box Derby, which was a race for the older Boy Scouts. So Murphy designed the Pinewood Derby to give the younger boys their own race. The idea caught on immediately, and has been one of the most beloved events on the Cub Scout calendar ever since.
Third-grader Chris Stewart from the Langley School looks forward to the race every year. "For me it's special when you're making it because it's good family time. It's fun getting to carve out and sand and do all that fun stuff. And after that it's fun to race. And once you're done you can always play with it," he said. "It always makes a good toy."