Burke — The West Springfield girls' basketball team defeated T.C. Williams twice by a combined four points during the regular season, with each contest decided in the final seconds. When it came time to determine the 2012 Patriot District champion, senior guard Jordan Miller and the Spartans showed no desire for another dramatic finish.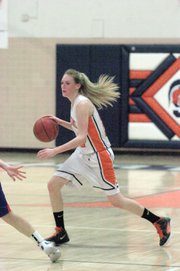 Miller scored a team-high 21 points as West Springfield captured its third consecutive district championship with a 78-63 victory against TC in the district tournament final on Feb. 17 at Lake Braddock Secondary School. Miller helped the Spartans maintain a comfortable lead with 14 second-half points on her way to tournament MVP honors.
"It feels amazing," Miller said. "It's the first step in where we want to go."
WEST SPRINGFIELD outscored TC 17-3 in the second quarter and built a 43-16 halftime lead. Early in the third quarter, however, Duquesne-bound point guard April Robinson was called for her third foul and Georgetown-bound forward Logan Battle was whistled for her third and fourth fouls. With Battle on the bench, the Titans started to chip away at the Spartans' lead, but Miller would hold things together for West Springfield. The sharpshooter scored 12 points in the quarter, including a 3-pointer and a pair of jumpers.
"That was big," West Springfield head coach Bill Gibson said. "Jordan's done that in the past. In tournaments, we'd come down and need buckets [or] we'd be in droughts and she comes down and finds a way to hit a couple shots and it changes the whole momentum for us."
TC pulled to within nine early in the fourth quarter, when a three-point play by Gaby Moss cut the West Springfield lead to 60-51. Miller would answer again, knocking down a jump shot that sparked an 8-0 run.
"The difference was Jordan Miller."

--- T.C. Williams junior Christian Roberts.
"The difference was Jordan Miller," T.C. Williams junior guard Christian Roberts said. "She was on this game. The game we played them [earlier this season], she was off --- she wasn't hitting anything. She made every single shot [in the district final], so that's what made the difference."
Sophomore guard Amy Berglund also had a big night for West Springfield, finishing with 20 points. Battle scored 11 points and Robinson finished with nine. The trio, along with Miller, made the all-tournament team.
"Amy and Jordan played amazing," Robinson said. "We just looked for them and we tried breaking [the Titans'] press."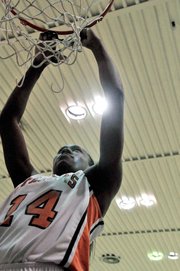 West Springfield produced its second-highest point total of the season to date and appeared ready to enter the Northern Region tournament at full strength. Berglund missed the first seven games of the season with a knee injury and Robinson sat out for more than a month with an injured ankle, but the Spartans now have all weapons at their disposal.
"It's been a bit different of a year in that we haven't been together," Gibson said. "Amy was out the first part of the year, then April went out, so now we finally get everybody healthy and I think we're starting to play well, and that's when you want to play well."
West Springfield defeated Marshall 58-29 on Feb. 20 during the opening round of the regional tournament, and beat Chantilly 54-31 on Feb. 22 in the quarterfinals. The Spartans will face Marshall in the semifinals at 8 p.m. on Friday, Feb. 24 at Robinson Secondary School.
In 2010, West Springfield finished region runner-up and ended its season in the state semifinals. Last year, the Spartans won the region but once again lost in the state semifinals.
"We know what it feels like," Robinson said of the Spartans' postseason experience. "We also know what it feels like to lose and we don't like the feeling of that, so we're just going to come out as hard as we can."