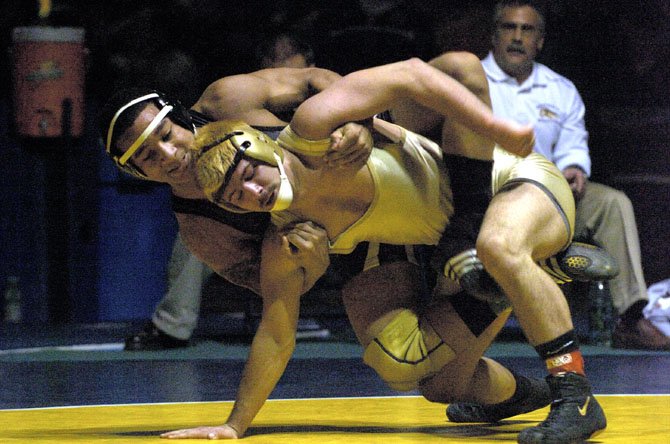 Three Northern Region teams – Robinson, Annandale, and Westfield High Schools – finished among the top 10 team finishers at last weekend's Virginia State AAA Wrestling Championships, held Feb. 17-18 (Friday and Saturday) at Robinson Secondary.
Colonial Forge (Stafford) of the Northwest Region was the team champion with 152.5 points, well ahead of second place and defending state champion Robinson (87). Matoaca High (67.5) of Chesterfield finished third ahead of fourth place Annandale (65.5) and fifth place Forest Park (63) of Woodbridge. Westfield High, this year's Northern Region champion, finished in eighth place with 57 points behind sixth place Ocean Lakes (59) of Virginia Beach and seventh place Kellam (58.5), also of Virginia Beach. Rounding out the top 10 behind Westfield were ninth place Hanover (54.5) of Mechanicsville and 10th place Salem High (50).
Thirty-nine teams were represented at states. Other teams from the Northern Region included South County (17th place), Madison (23rd place,), South Lakes (28th place), Lake Braddock (29th), Wakefield (31st), Marshall (32nd), Hayfield (33rd), Centreville (34th), Yorktown (36th), and Stone Bridge (38th).
FIVE NORTHERN REGION wrestlers won individual state titles: Ali Musa (220 weight class) of Annandale; Beau Donahue (152) of Westfield; Brooks Martino (145) of Robinson; Santiago Valdez (138) of Robinson; and Dane Harlow (126) of Annandale.
Second place finishers from the Northern Region were: Jake Pinkston (heavyweight) of Robinson; Ryan Forrest (160) of South Lakes; Henry Majano (132) of Wakefield; and Robert Dooley (120) of Madison.
Third place finishers from the Northern Region were: Matt Crawford (heavyweight) of Marshall; Brett Stein (160) of South County; Jonathan Faul (152) of Stone Bridge; Sahid Kargbo (138) of Hayfield; and Hunter Manley (106) of South County.
A fourth place finisher from the Northern Region was Charlie Whelden (heavyweight) of Yorktown.
Fifth place finishers were: Bryan Jefferson (heavyweight) of Annandale; Ryan Sepulveda (170) of Centreville; Jonathan Simmons (160) of Robinson; Rori Renzi (145) of Lake Braddock; Leland Jenkins (126) of Langley; and Brett Campbell (120) of Westfield.
Sixth place finishers were: David Chenevey (195) of Centreville; Dusty Floyd (170) of Mount Vernon; Stephen Aiello (145) of Westfield; and Ibrahim Bunduka (113) of T.C. Williams.

Seventh place finishers were: Tyler Morson (170) of Westfield; Derek Arnold (138) of Westfield; Sean Haskett (132) of Lake Braddock; and Austin Riggs (120) of Robinson.
Eighth place finishers were: Gil Enav (170) of Lake Braddock; Brock Jacobsen (132) of Edison; and James Cusack (113) of Marshall.