Alexandria — Allowed to start a 100-yard dash at the 80-yard mark confers a mighty advantage on the racer. So it is with the Virginia Theological Seminary. The public — and final — phase of the Seminary's "Chapel for the Ages" campaign is beginning. Of the $13.0 million needed, $10.8 million has been raised.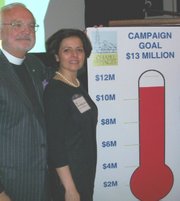 Sixteen months ago, the 1881 Immanuel Chapel on the Hill was destroyed by accident in a fire. Efforts began immediately to replace what many call "the heart of the Seminary." Decisions were made on where to build, which architects to engage and what design would best serve today and in the days to come. Fundraising began, too. Some donors were asked to contribute and others stepped forward without waiting to be asked.
Last week a campaign was launched for support from the general public and other friends of the Seminary. The goal is $2.2 million, enough to reach the full cost of construction. The Very Rev. Ian S. Markham, dean of the Seminary, led the proceedings. He observed that each generation is faced with challenges, but each should be welcomed as an opportunity. A gift to assure success of the current fundraising effort, he urged, "is our opportunity to meet a challenge and build for the next century and beyond."
Mayor William D. Euille recounted the meaning of the fire-ruined chapel to local citizens. Its steeple was visible from afar, both as a landmark and a reminder of what the Seminary stood for. The new chapel, he said, will serve the same purposes.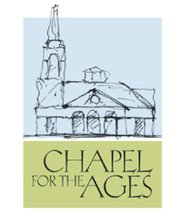 Directing attention to artist renderings and a model before him, Grant F. Marani, partner in Robert A. M. Stern Architects, explained the concepts soon to be embodied in brick and stone. Susan L. Shillinglaw, director of communications, introduced a video inviting the public to participate in the campaign.
"I am so grateful," said The Rev. J. Barney Hawkins IV, vice president for institutional advancement, when asked about the fundraising success to date. His explanation was simple: With so many good people in the world, merely showing the need prompts a generous response.
The current campaign must not be allowed to become selfish or inward-looking, advised The Most Rev. Frank T. Griswold III, Presiding Bishop and Primate of the Episcopal Church. Each gift toward the new chapel, he said, "itself should be tithed to build elsewhere in the broad reach of the Church." He commended Holy Trinity Cathedral,Port-au-Prince, Haiti, and Msalato Theological College, Dodoma, Tanzania, to all donors.
Groundbreaking is scheduled for 2013 and first services will be held in 2015.