Centreville — A man who entered the country illegally, raped an 8-year-old Centreville girl and then fled the state was sentenced last week to 25 years in prison. He is 30-year-old Salvador Portillo-Saravia.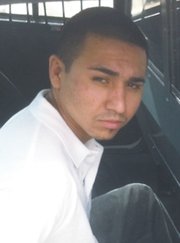 But even though he'll pay legally for his crimes, said Assistant Commonwealth's Attorney Kathy Stott, for the young victim and her single mother, the ordeal is far from over.
"[The child's] life has been altered," said Stott. "And [her mother] won't leave this courtroom today healed. This will have an effect on [both of them] for a long time."
Last fall, Portillo-Saravia pleaded guilty to rape and sodomy for offenses that occurred Christmas Day 2010 and the day after, inside the girl's London Towne home. (To protect the victim's identity, Centre View is not identifying her or her mother).
At the time, Portillo-Saravia was living in Sterling and the mother was dating his brother. So Portillo-Saravia was welcome in her home. Said Stott: "This was a person who was trusted by the family."
He disappeared after sexually assaulting the child, but police obtained felony rape and sodomy warrants for him. A manhunt ensued, and Portillo-Saravia was located and apprehended, Feb. 6, in Houston, Texas.
Working together to nab him were the Fairfax County Police Department Child Abuse Squad, the Fugitive Operations teams of U.S. Immigration and Customs Enforcement's (ICE) Enforcement and Removal Operations in Texas and Washington, U.S. Marshals Service National Capitol Regional Task Force and multiple law-enforcement agencies in Virginia and Texas, especially the Houston Police Department.
Portillo-Saravia was extradited to Virginia on Feb. 12. Since then, he's been held in the Adult Detention Center without bond and also on an ICE detainer.
He was arrested by a Prince William County gang task force in 2003 and was subsequently deported to his home country of El Salvador. But unbeknownst to authorities, he later re-entered the U.S.
On Oct. 17 in Circuit Court, he pleaded guilty to rape and entered an Alford plea to sodomy — not admitting guilt, but acknowledging the existence of enough evidence to convict him of that crime. He returned for sentencing last Friday, Feb. 17, before Judge Dennis Smith.
At the outset, the mother testified that she'd known Portillo-Saravia since 2005, when she met his brother. She said he'd been to her home for birthday and holiday celebrations, parties and on weekends. Then Stott asked her to describe any differences in her daughter's behavior after the offenses against her.
Crying, she said, "My daughter is not the same. Her behavior is completely changed. She easily gets sad, and it's hard for me to leave her alone with other kids. She can't control her eating and wants to eat every 30 minutes. And if I talk to her about it, she gets mad and yells at me. She's in counseling, but I have financial difficulties [paying for it]. This is a nightmare."
Stott then asked Smith to sentence Portillo-Saravia to 25 years behind bars for his "egregious" actions. "That a man of this defendant's age — and someone who has daughters of his own — could subject someone of the victim's age to rape and sodomy is inconceivable," she said. "That he'd known her for years and was trusted by the family, and would then do this, is simply appalling."
Afterward, said the prosecutor, he fled to Texas. And, she added, "But for the tireless efforts of several law-enforcement agencies to bring him back, he would not be here now to answer to his horrific offenses."
Noting that Portillo-Saravia blamed his drinking for his criminal behavior, Stott said, "That shouldn't hold water with the commonwealth or with this court. He should be held apart from the community, and especially from children, for a lengthy period of time — both to protect society and for punishment."
Defense attorney Jonathan Estes said there's "no excuse" for Portillo-Saravia's actions, but he does have a history of alcohol abuse. He said that, since being returned to Virginia, Portillo-Saravia has "taken responsibility for his actions" and pleaded guilty because "he knows he hurt [the victim] and didn't want to put her through a trial."
"This young man is not a habitual, sexual predator," said Estes. "He is a man with a severe alcohol problem who committed a horrible act while under the influence of alcohol." Estes said Portillo-Saravia had a difficult upbringing in El Salvador and, after his father left, his older brother became his role model — until he was shot and killed at age 17."
The gang, MS-13, tried recruiting Portillo-Saravia when he was 11 and again at age 17, said Estes. But he left the country instead, came to the U.S., worked and sent money home.
Now, said Estes, "He's remorseful and he's turned to God for help. He turns to this court for a little mercy. Ten years in prison is appropriate. Alcohol is not an excuse, but it's a factor."
Portillo-Saravia then stood and addressed the court via a Spanish-language interpreter. "I ask the victim to please forgive me for hurting her like that," he said. "I'm aware this action will affect her whole life. I didn't want to hurt her, but the alcohol sometimes makes you do things you're remorseful for, for life."
Then it was Judge Smith's turn to speak, and he talked directly to the defendant. "You knew a little girl who you played with when she was still a baby," he said. "You watched her grow up a little bit and, before she was finished with her childhood, you took it from her."
"I don't know the long-term effect on her life, but there's no doubt in my mind that you've made it a lot harder and robbed her of the joy that should rightfully be hers," continued Smith. "You've had a hard life in some ways, but that doesn't begin to excuse your conduct."
He then sentenced Portillo-Saravia to 15 years in prison for sodomy, suspending 10 years, leaving five to serve. On the rape charge, Smith gave him 35 years, suspending 15, for 20 to serve. He ran both sentences consecutively, for 25 years total.
The portions suspended are for 50 years. So the judge told Portillo-Saravia, "If you violate the law again when you get out, you're subject to serving another 25 years."
Now that he's been sentenced for this case, federal authorities will officially charge him with illegally reentering the U.S. It's punishable by a mandatory minimum of five years in prison tacked onto his existing time to serve. When he's released, he'll be deported.
Before Portillo-Saravia left the courtroom Friday, Smith told him, "You violated the trust of a little girl, and you have to pay the price for it — in the only way I can make you do it. If I could make you give her back her childhood, I would."