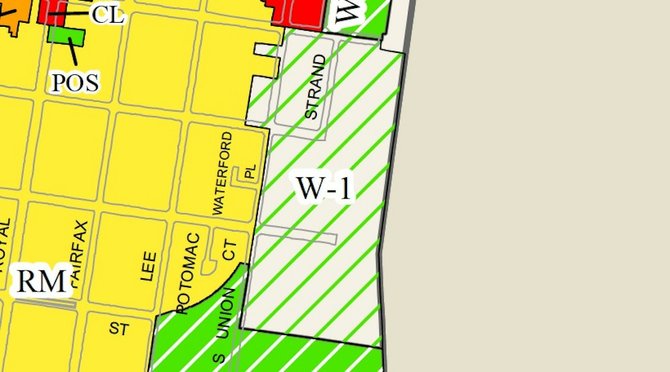 Update: The City Council voted four to two to approve the waterfront amendment to the city's master plan.
During today's public hearing, members of the Alexandria City Council are set to consider an ordinance officially incorporating the controversial waterfront small-area plan into the city's master plan. Significantly, council members will not be considering the most controversial part of the plan — a zoning change for three sites slated for redevelopment that would more than double density compared to what's there now. That part of the plan has been put on hold as the Board of Zoning Appeals considers two challenges to the rezoning and the Alexandria Circuit Court considers another.
"To some extent, the zoning helps implement the vision of the plan," said Deputy Planning Director Karl Moritz. "So it's important to have the zoning in place when a development proposal comes forward."
That could be as early as this fall, say city planners. Washington-based Carr Hospitality is already preparing plans to redevelop a site known as the Cummings warehouse. Although the small-area plan approved by City Council members in January would increase the zoning from the existing 71,000 square feet to 187,000 square feet, that zoning change is now in limbo. That means that the developer could be restrained to the previous zoning of 125,000 square feet unless all the challenges are dismissed.
"Passing the plan without the rezoning is a meaningless gesture," said Katy Cannady, one of the plan's most vocal critics. "One without the other really doesn't work, which is why they were originally presented and voted on together."
The Board of Zoning Appeals is expected to take up the two appeals in April, although those could be appealed to the General District Court. And the Circuit Court case has yet to be docketed for a specific date.