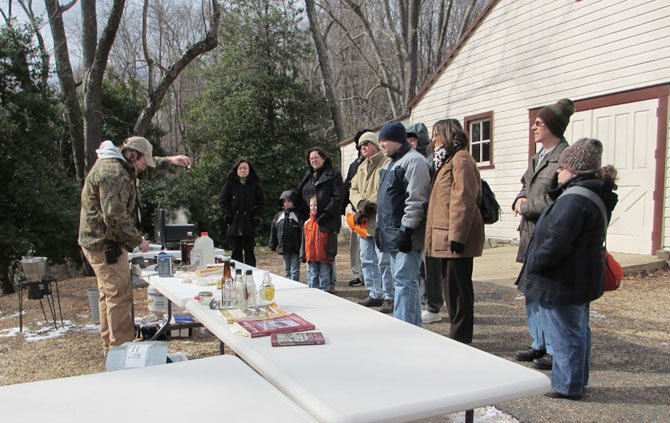 Colvin Run Mill is not in Vermont nor are its maple trees "sugar" maple, but the park's demonstration of a maple syrup boil-down harkens back to the simple ways of country living. For two Sundays in February, Colvin Run Mill hosted open-to-the-public presentations and sampling. Cornmeal ground at the mill was the foundation of the cornbread served with a river of freshly-thickened maple syrup.
Volunteers kept the cauldron boiling over an open fire and another volunteer, braving the blustery cold, described the step-by-step process, from tapping the trees, gathering the sap, and boiling it to a viscous reduction.
The maple trees at Colvin Run yield a sap that is boiled down in a ratio of 60 to 1; sugar maple trees produce a thicker sap. Depending on the type of tree tapped, it takes anywhere from 40 gallons to 60 gallons of sap to boil down to one gallon of syrup, and on the average, a tree will release 15 to 25 gallons of sap from each tap.
Sap begins to run when night-time temperatures dip to the low to mid-twenties or colder and day-time temperatures reach the high 30s.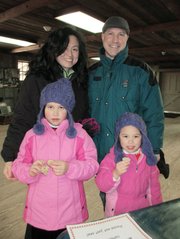 As cold and windy as it was on Feb. 12, families stood outside watching the demonstration or standing closer to the fire for warmth. Parents appeared more attentive to the verbal presentation than did their children, but the children enjoyed the fire and the samples.
"I try to find as many things to do in the area," said Vienna mom Alex Berry, at the boil-down with her two daughters, Sabrina and Elliott, and her husband, David. Berry said the family learned that it takes a "sensitive" amount of sap to make a single gallon of maple syrup. She also learned it's not a good idea to boil sap down in the kitchen because the steam may discolor walls and ceiling.
Inside the barn, school-aged volunteers spooned maple syrup over chunks of cornbread for guests to try. It was a tasty way to take shelter from the cold.
Colvin Run Mill Historic Site, operated by the Fairfax County Park Authority, is a working mill more than 200 years old. It sits at the corner of Leesburg Pike and Colvin Run Road, Great Falls. Throughout the year, the mill hosts events for children, adults and families, from music to historical perspective and summer camp for children. To learn more about Colvin Run Mill, go to http://www.fairfaxcounty.gov/parks/crm/ or call 703-759-2771.