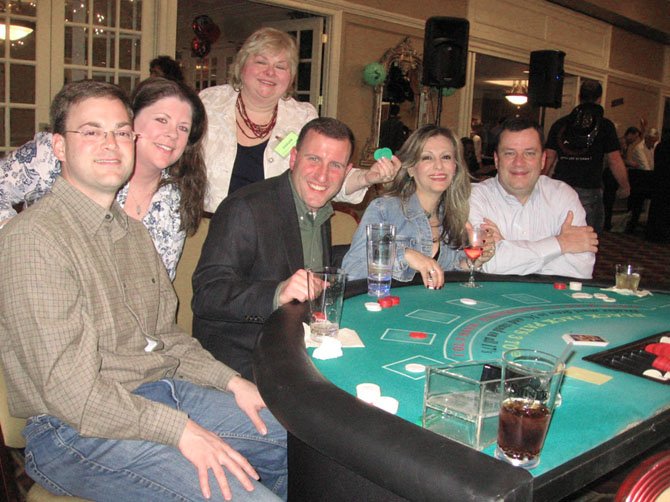 The Vienna area gets an opportunity to don its fanciest duds, do some gaming, sample foods from the area's most popular restaurants, bid on classy auction prizes, listen to party music, drink from lit-up bar glasses and win raffle prizes on Saturday, March 3. Also known as Casino Night and Taste of the Town, "Monte Carlo" night brings out the James Bond and Bond girl in everyone. Sponsored by the ViennaTysons Regional Chamber of Commerce [VTRCC], the annual gala at Westwood Country Club in Vienna draws community and, even, out-of-towners looking for a special night out.
"It's a night that everyone can come together for an evening of adult fun," said Casino Night chair, Tana Keeffe. "You can eat, gamble, converse, and taste multiple types of food."
Each guest receives, upon admission, a goody bag filled with VTRCC gaming currency, souvenirs and two drink coupons. Winnings are converted to tickets that are used for raffle prizes. The silent auction takes real U.S. tender.
With a Monte Carlo theme, guests are invited to come as "chi-chi" as they want, said Keeffe. "It's anywhere from cocktail to black-tie." Men in tuxes and women in gowns are anticipated.
"It's a great opportunity to gamble with money that's not yours," said VTRCC vice president of fundraising, Diana Carlin. "You can put $5,000 on the table and not panic."
"You can win prizes with your earnings and bid on auction donations. How often do you get to say, 'let it ride.'"


NEW THIS YEAR TO CASINO NIGHT are slot machines and lighted gaming tables. Gamblers can bet at two craps tables, one roulette table, two Texas Hold'ems, a wall of slots and 18 blackjack tables. Volunteers act as dealers during the evening. Fitness Together is the 2012 title sponsor.
Seventy-five percent of attendees return to Casino Night year after year, said Keeffe.
VTRCC Casino Night and Taste of the Town, Monte Carlo-style, runs from 7:30 p.m. to midnight, at Westwood Country Club, 800 Maple Ave. East. Ticket price includes two drink tickets, $25,000 in "gaming cash" and food tastings from as many as 15 local restaurants. Food tables offer Mexican, steak, dessert, pizza and hot dogs, and Lebanese, Italian and Greek small-bites among the assortment of choices.
VTRCC sells tickets directly from its website – www.vtrcc.org - at a discounted price of $85; tickets per person are $95 at the door. Casino Night tickets may be bought at VTRCC offices, 513 Maple Avenue West, 2nd Floor, by noon on Thursday, March 1.
Keeffe calls Casino Night a night of "fun and smiles."
"It's worth coming out to one of the community's more comprehensive events," said Keeffe.
Carlin refers to Casino Night as an event reflective of the town. "That's the nice thing, really, it's about community," she said.