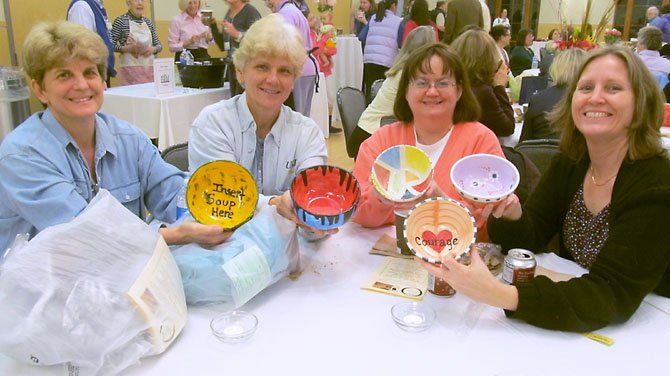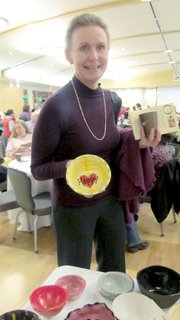 Professional and student artists have been busy shaping and decorating nearly 500 bowls for the fourth annual Empty Bowls event, hosted by Our Daily Bread, a nonprofit that works to eliminate hunger, homelessness and poverty in Fairfax County.

More than 300 community residents turned out for the annual fundraiser at the Stacy C. Sherwood Community Center in Fairfax on Thursday, Feb. 23. By purchasing a $25 ticket, guests could choose one of the hand-crafted bowls, take part in a silent auction and enjoy a simple meal of soup, bread and dessert donated by local restaurants.
"I love how they do this event," said Barb Brehm of Fairfax. "Everyone gets a great bowl, and the next time they eat soup at home, they are grateful that their bowl isn't an empty one.
"I think the quote 'Let this bowl be a reminder that on this night you helped fill empty bowls,' says it all," said the Rev. Karen Rasmussen of Fairfax.

2012 Empty Bowl Artists
Christine Bolon
Brandy Carter
Clay Café Studio of Chantilly
Clearview Elementary (Herndon) – Girl Scout Troops
Color Me Mine of Fairfax
Keith Conway – Vienna
Lee Corey
Fairfax High School – Visual Arts Students
Girl Scout Troop 5
Susan Fox Hirschmann Art Pottery
James Madison High School National Arts Honor Society Students
Susan E. Martin
Annie Montanari
Montgomery County Potters
No. Va. Community College, Alexandria Campus – Ceramics Program Students and Artists
Paint Your Heart Out Occoquan
Paint Your Own Pottery - Fairfax City
Bill Schran, Asst. Dean of Fine Arts, No. Va. Community College
Scope Gallery Artists – Torpedo Factory
Shark Tank Racing Squad Swimmers
Konika Sircar
South County Secondary School – Art Students
Muranjo Ubelaker – Mu Pottery
Hope Walker
With more than 60 families on its food program waiting list, and overwhelming requests for financial aid, the fundraiser generates thousands of dollars each year for ODB, said executive director Lisa Whetzel.

"It takes an income of about $60,000 for a family of four to thrive in the Fairfax County area," said Whetzel. "Most of the clients we help only make about $20,000 a year. Here in one of the wealthiest areas in the nation, it is shocking that tens of thousands of people struggle with hunger and hardship on a daily basis…When the community supports our Empty Bowls event, they help us make a real difference for our neighbors in need."

THE EVENING INCLUDED live music by the Fairfax Saxophone Quartet, children's activities, and a silent auction that included a chance to ride with Sharon Bulova (D-at-large), chairman of the Fairfax County Board of Supervisors, during the County's annual Fourth of July Parade; an Outer Banks beach house rental, a Wintergreen Resort vacation rental, and a variety of gifts baskets and gift cards from area restaurants and businesses.
"This is a wonderful way to celebrate and raise awareness for a great cause," said Patty L. Friedman of Fairfax Station, who coaches the regional Shark Tank Racing Squad. "Each child on our team has a tremendous gift in their ability to swim, but I feel that we should all use our gifts to help others and give back." Friedman said swimmers created bowls and, throughout the year, raised $7,700 for ODB's programs.

"It was a lot of fun making the bowls, and it feels good to be able to make a difference," said swimmer Rachel Stewart, 14, of Springfield, a member of the Shark Tank Racing Squad. "It's hard to believe there are children who don't have enough to eat here."

According to recent statistics from Fairfax County's Neighborhood and Community Services, more than 62,000 residents live below the federal poverty line in the county. During the 2010-2011 school year, Fairfax County Public Schools reported that more than 44,000 children, or 25 percent of the student population, qualified to receive free or reduced-price meals.

EMPTY BOWLS is a nationally-recognized grassroots program designed to help local organizations fight hunger and raise awareness of hunger, homelessness and poverty in the community.

For more information on Our Daily Bread, visit www.ODBFairfax.org.