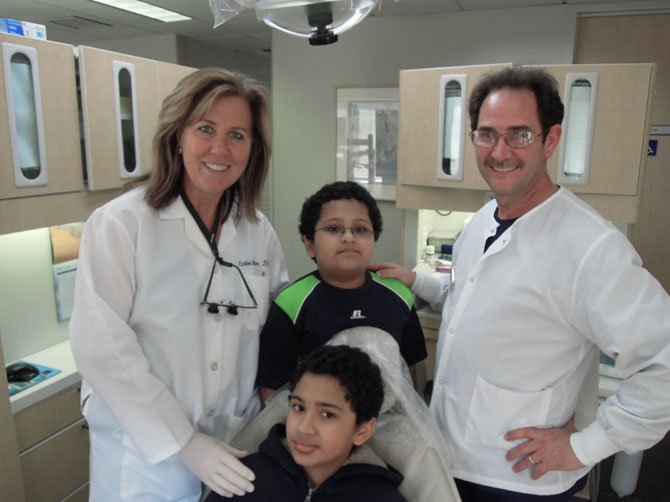 By participating in their third annual Give Kids A Smile event, doctors and staff at Fusion Dental's Reston office gave some local kids and their parents a lot to smile about. Coordinating with Lake Anne and Dranesville elementary schools, Reston Interfaith's Laurel Learning Center and the Medical Care for Children Partnership, 21 children were examined and treated at the Fusion Dental Reston office Feb. 3 by the volunteers.
All children received examinations, X-rays, cleanings, and fluoride treatments. The doctors participating in the event included Scott Synnott, DDS, Robert Averne, DDS, Joyce Fernandes, DDS, Kathy Dillon, DDS, Myra Doyle, DDS, and Judy Kwon, DDS. The many Fusion Dental volunteers also included Reston's dental hygienists, dental assistants and support staff. Some children also received fillings, sealants, stainless steel crowns, and other needed treatments resulting in over $15,000 in donated dental care. Several of the children's needs exceeded what could be accomplished in one visit and will be returning until their treatment is complete.
"After our third year participating in Give Kids A Smile, this event has become a tradition to our team, and I believe our staff would agree with me that this event is our most rewarding," said Scott Synnott, DDS, Fusion Dental - Reston.
This event is part of the American Dental Association's Give Kids A Smile program, which is celebrating its 10th anniversary in 2012. Last year, more than 44,800 dental team members nationwide participated in Give Kids A Smile, which is designed to provide free dental services to local qualifying children from underserved families.
For more information visit www.FusionDentalGroup.com.