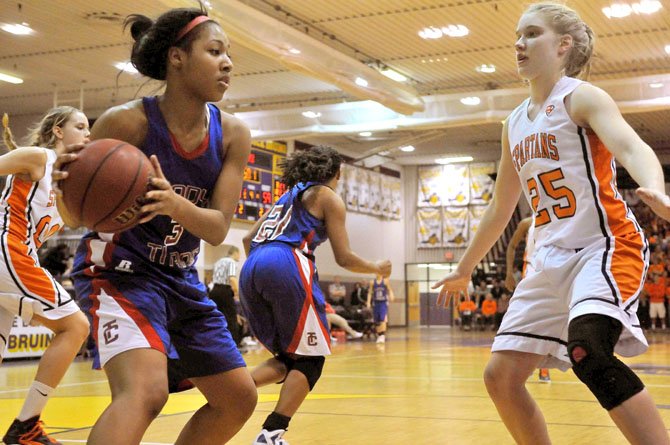 The T.C. Williams girls' basketball team lost to West Springfield in the Patriot District championship game for the second consecutive year, this time falling 78-63 on Feb. 17 at Lake Braddock Secondary School.
West Springfield won both regular season meetings with TC by a combined four points. On Friday, the Spartans blew the game open early, outscoring the Titans 17-3 in the second quarter en route to a 43-16 halftime advantage. TC battled back in the second half, thanks in part to West Springfield standout Logan Battle being sidelined with foul trouble, and cut the lead to nine in the fourth quarter. But the Titans couldn't get any closer and fell to 0-7 against West Springfield during the last two seasons.
"If we had started off like we played the second half, it would have been an easy game," TC junior guard Christian Roberts said. "We always dig ourselves in holes every single game."
Gaby Moss led TC with 24 points and Roberts added 15. Both players made the all-tournament team.
Jordan Miller led West Springfield with 21 points and Amy Berglund finished with 20. Battle scored 11 points and April Robinson added nine.
TC defeated Fairfax 69-48 on Feb. 20 during the opening round of the Northern Region tournament before ending its season with a loss to Oakton in the quarterfinals.
— Jon Roetman