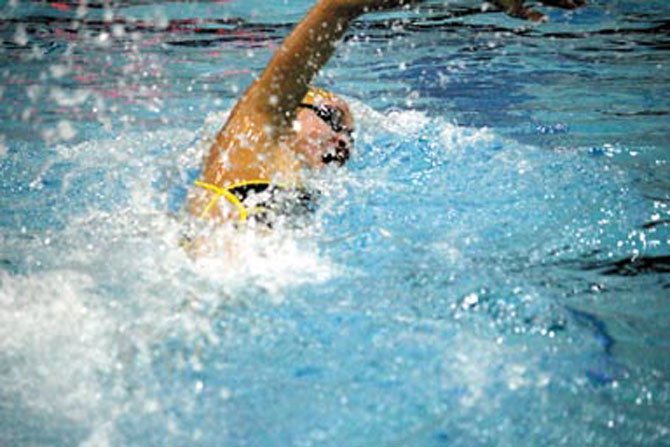 Vienna — Oakton High School's varsity swim and dive teams took to the water against Chantilly High School on Friday night, Jan. 6 at Oak Marr Recreation Center. Oakton's boys and girls fought to the finish, and held tight to their undefeated record this season. The boys won 160-155, and the girls won 177-135.
Oakton dive had another week of great performances, led by Joe LeBerre's first place.
The meet continued with close swims across the board. The little victories, such as Cougar swimmers finishing sixth place rather than seventh, or fourth place rather than fifth, were the meet details which helped both Oakton teams win.
"It was a really close meet - closer than we had anticipated, but we pulled through in the end," said Stephanie Hallock, one of the Oakton team captains. "If we keep up the hard work, there's a definite possibility of an undefeated season and a shot for the state title."
Philip Hu placed first in both of his individual events - 100-yard butterfly and 100-backstroke. Conor Murphy placed first in the 50-freestyle and was second in the 100-freestyle. Ryan Santoro finished first in 100-breaststroke and second in 50-freestyle.
Janet Hu placed first in both the 200-freestyle and 100-butterfly. Laura Branton finished first in both the 50-freestyle and in 100-freestyle.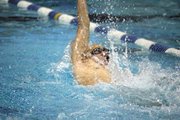 Oakton Sweeps Robinson
Oakton, in its most recent meet last Friday night, went head to head with Robinson Secondary for the second time this season at Cub Run Recreation Center. Oakton's boys and girls both had a strong meet, staying undefeated. The boys won 202-113, and the girls won 192 - 123.
The meet started off with Senior Recognition Night. Dr. Banbury, the Oakton High Principal, and Pat Full, Oakton's Athletic Directory, were on deck to pay tribute to the Cougar team's 20 graduating seniors.
Cheryl Meltz, head dive coach, shared her thoughts on the night.
"We got to pay tribute to our 20 wonderful senior swimmers and divers who have done so much for our team over the last four years," said Meltz. "We will definitely miss their contributions to the team after they graduate. We are excited to have both our boys' and girls' teams undefeated going into our last dual meet. We are hoping to finish up the season undefeated in our last dual meet next weekend and then look forward to an amazing championship season."
Oakton dive had another week of strong performances off the board, as Joe LeBerre took second for the boys.
Philip Hu placed first in both 200-freestyle and 500-freestyle. Carter Sharer also took first in two events - 200-individual medley and 100-butterfly. Conor Murphy finished first in 100-backstroke and second in 50-freestyle.
Janet Hu finished first in 200-individual medley and 100-freestyle. Julia Capobianco placed first in 100-butterfly and 100-backstroke.
Oakton will return to the pool for the last meet of the regular season at 8:30 pm Friday, Jan. 20, against Robinson Secondary at Audrey Moore.


Win and Loss for Flint Hill Swimming
The Flint Hill Huskies boys swim team defeated St. Stephens St. Agnes School, 102-55, while the Saints girls beat Flint Hill by a score of 100-71. Double event winners for the Huskies included: Brian DeMocker, Rachel Swarts, and Natalie Brendsel. Single event winners were Rob Ikeda, Allison Kennedy, and Eric Tang.