Alexandria — West Potomac gymnast Marien Voorhees turned to a nearby Wolverines supporter and said "I'm scared" prior to her floor routine during the team's lone home meet of the season on Jan. 23. Nerves were getting to the junior, who would attempt her first full layout of the year.
As it turned out, Voorhees had nothing to worry about.
Voorhees posted a third-place score of 9.3, helping her earn a fifth-place finish in the all-around in West Potomac's final tune-up meet prior to the Patriot District championships. The district meet is scheduled for Feb. 2 at Lake Braddock.
Voorhees' all-around score of 35.35 was second among Patriot District gymnasts at the meet, finishing behind Lee's Leah Michetti (third, 36.65).
"It was my first time doing my full [layout] this year. It turned out pretty good."

— West Potomac junior Marien Voorhees
"I did pretty well, actually," Voorhees said. "I was really happy. … It was my first time doing my full this year. It turned out pretty good."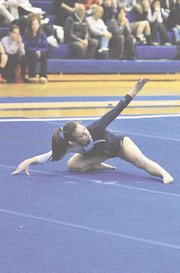 Voorhees finished third in the all-around at last year's district meet, earning her a regional berth. On Monday, she helped the Wolverines to a fourth-place team finish with a score of 128.8 despite the absence of fellow all-around competitor Amanda Trenchard, who did not participate due to a wrist injury. West Potomac finished behind McLean (141.8), and fellow Patriot District teams Woodson (135.95) and Lee (131.05).
"They had a very good meet," West Potomac head coach Pete Novgrod said. "[Getting to] 128 without Amanda in the meet — one of our all-arounds — that's pretty good. That might be their highest score or close to it."
Monica Thompson finished sixth (34.95) in the all-around for West Potomac, a performance that included a tuck Tsukahara vault. The sophomore said she enjoyed competing at home.
"It was one of my best meets so far this year," Thompson said. "I think I could have done better on beam, but I think for vault and floor, especially, it was one of my best meets, so I was pretty pleased. I really liked it because some of my friends came and they got to see me. Some of my family came too, so it was nice."
Monday was also senior night for West Potomac. Monica Bell and captains Jill Tupitza and Ali Muir competed in their final home meet for the Wolverines. Bell finished 13th in the all-around with a score of 31.25.
"It really sunk in once they put up the [senior night] signs and we made the shirts and everything and you come in and you see 'good luck seniors,'" Bell said. "It's finally sinking in that I'm a senior and this is my last [home] meet."
Juniors Krissy Karlsson, Brittany Angelini and Samantha Coughlan, sophomores Sofia Yaeger and Ashley Pak and freshman Annie Hunger also competed for West Potomac.